2014s must have color is Radiant Orchid, a beautiful hue of purple with soft fuchsias and beguiling magentas combined with undertones of soft pinks and lavenders. The depth of this color is endless. It is inspired by the iconic flower of South East Asia; a delicate bloom that symbolizes both the decadence and the simplicity of the Far East. Described as magical and intriguing, this sensual shade is perfect for the bedroom.
Redecorate or recreate?
The good news is that Radiant Orchid can be used against almost any color to create effects from the deeply dramatic to the sensationally subtle. Combine with metallic, such as silver for a dreamy but luxurious feel, or pair with lavish gold to really capture the imagination of the East. Radiant Orchid can be used in rooms of neutral grays, soft pinks and cream to deliver serenity or collide with strong contrasting colors such as oranges, reds and yellows. Team with the boldness of black to bring the East into your bedroom.
The choices are endless.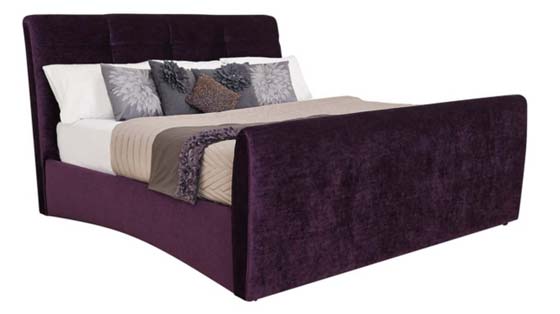 A dull bedroom can be uplifted instantly by doing nothing more than changing the color of the duvet on the double bed. Choose from a print of orchids in bloom or keep it simple by using Radiant Orchid as the shade. Try using just the pattern on the pillowcases for a simple effect. Bedspreads and fabrics emphasize color and textures. Lighter lavenders work well on walls keeping a room bright and airy; accentuate the color by using fabrics of the same shade.
For a more dramatic effect, go darker and deeper. Think olive and taupe green, which blends with turquoise and teal to deliver instant inspiration and originality.
Accessorize with cushions and throws in a color combination of your choice. Choose fabrics such as satins and silks to powerfully capture the oriental mystique. Mix and match styles and fabrics to create layers and textures that exude originality and charm.
New curtains and blinds frame rooms so mix and match pattern with block color. Double up with venetian blinds with nets. Be daring with luxurious materials or keep it simple with cotton and muslin. For bedrooms with lots of sunlight there is more scope for dramatic colors, while in smaller rooms use paler shades and whites. Whatever style or colors chosen, you can be sure that Radiant Orchid will add a touch of luxury.
Whether you prefer low elevation furniture inspired by the Japanese or pieces that are distinctly Asian, Radiant Orchid works well across different styles and periods. It blends to perfection with bamboo and teak, either varnished or painted gloss white.
Small details such as table lamps and prints can bring the new color and style into your room with very little expense. Update old lampshades with new shapes and colors. Rejuvenate walls by adding canvas prints and other artwork inspired by the delicate flower.
No matter how you choose to use Radiant Orchid, be creative, be original and be radiant.
Related posts: