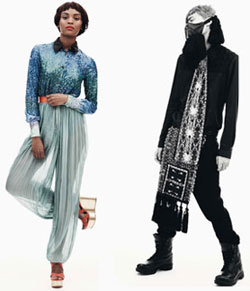 If you've always had dreams of being a fashion designer with your own collections gracing the catwalks, then you need to be prepared to put in a lot of hard work if you want to fulfil them. Britain has always been a fashion leader, but that also makes it one of the most competitive industries to get started in so you need to know how to get ahead. The likelihood of being able to quit your job and walk straight into a vacancy at a fashion house even a small one are slim to none without having done some substantial groundwork.
But don't let the competition put you off – it's worth working for the things that are important to you. To help you get started, we have a few tips for how to get ahead in the world of fashion.
Get qualified
Unless you're some artistic genius who knows all the right people, then you're unlikely to get a look in without the right degree – even then you'd need a large slice of luck. So the first thing to do is find a course in fashion which suits you, and to establish which one is the right choice you'll need to look carefully at the details. It's wise to choose a course like this one from Middlesex University, which gives you a good grounding in all the disciplines within fashion design, such as illustration, portfolio presentation, technical drawings, garment construction and pattern cutting. Having a broad educational background in fashion disciplines will give you more options, and you can always specialise in one area later on.
Keep creating
Even with the right degree, you'll need to have a substantial portfolio to show prospective employers, so you need to keep creating your own original ideas in your spare time. Don't get too obsessed by trying to get one astounding collection straight away, just keep designing and your talents will gradually develop.
Get your work out there
When you have designs you need to start creating some of them so you can put on small fashion shows wherever you are able – even in the street! Record these events and put them on your own YouTube channel and write a fashion blog – use new media to get your name and your work seen by as many people as you can.
Save up to work for free
It's likely that your first opening at a fashion house will be an unpaid internship. These are a great way to get a foot in the door but working for free is tough, so be a saver and get some money put aside so you don't have to turn down opportunities through lack of cash.
Be persistent
The fashion world is a tough one – you will get knocked back many times and may even get some less-than-constructive criticism of your work, but treat everything as a learning experience and vow to come back stronger each time. With enough talent and determination you can get your dream job!
Related posts: