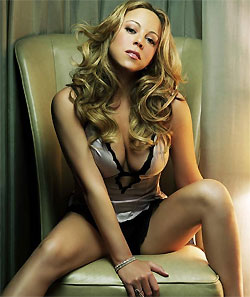 Mariah Carey is said to send M her helpers hopping mad with her diva like demands, her most recent request being a Space Hopper. Carey, 39, had the retro children's toy included in the list of items she wanted as she arrived in Cannes for the Film Festival, and along with it she asked for flowers, candles, massage oils and specialty teas.
"We're used to bizarre Hollywood starlets' demands here, but this one has really floored them," the Mirror quoted a source as saying.
"Her team has got people running all over Cannes to sort out the flowers, candles and oils for her rider, but the request for a Space Hopper totally threw them.
"Where do you get one of those in a glamorous French resort? Everyone's wondering what on earth she wants it for," the source added.
The singer, who arrived in Cannes on May 14, is staying in a trendy villa, whose rooms have been decked out with 200 white lilies, Indian drapery in every room, and more than 200 candles.