It's true that clothes don't make the man, but they can make or break him in a variety of social situations. This is true down to the smallest details, such as your shoes; wearing the wrong pair can make you look overdressed and awkward at a party or, perhaps worse, underdressed and unprofessional at the office.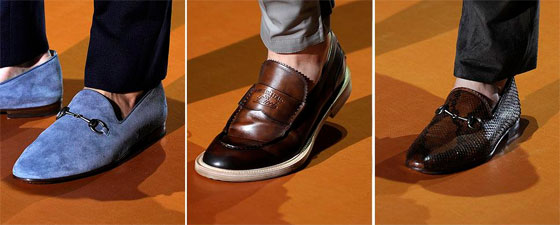 Here's a quick guide to the basic categories of men's shoes trends in 2013 and what to look for so you can be well-dressed from head to toe.
Casual
A great pair of athletic sneakers is a must for every man, but there are times when sneakers just don't quite fit the bill. For example, if you're going on a very casual first date, you might want to wear something just a little more stylish than your basketball sneakers. Toms (toms.com) makes a variety of casual men's shoes, in both slip-on and lace-up varieties that are casual enough to pair with jeans or even shorts but are just a notch above athletic shoes.
Dress casual or business casual
The increasingly blurry line between business and business casual means you need at least one pair of shoes in your closet that can work equally well with jeans, chinos and dress slacks alike. The solution can come in a few forms. A good pair of ankle boots is a great option. More stylish than a work boot, these look great with jeans or corduroy pants in the cooler months and are lightweight enough to wear with linen pants in the summer. In a dark shade you can even wear them with slacks on casual Fridays.
You can also try a pair of oxfords. The new generation of oxford is super-stylish and can go from work to casual events with ease. Try them with snappy contrasting stitching for a super-stylish touch.
Business and dressy shoes
When you're wearing slacks and a jacket, you need something much more business-like than your everyday casual shoe or beat up sneaker, of course. The question is how to choose a pair of shoes that will look appropriate in the boardroom without seeming stuffy. If you like slip-on loafers avoid any with tassels or contrasting rubber heels; look for something in suede or try a subtle leather pair (not shiny patent).
If you like the lace-up variety, a shiny black patent shoe never goes out of style; look for one with a boxier toe for the most up-to-date look. Rubber wedge heels are coming back into fashion and you can probably get away with this style at the office, but a separated wooden heel is still the dressiest option for black-tie events such as weddings.
There comes a time when you're dressed to the nines, but not for work; it could be for a black-tie wedding reception or other social occasion when you can dress stylishly without the constraints of keeping on par with work colleagues. In those cases, a pair of velvet smoking slippers is a daring and stylish choice with a crisp and stylish suit. Look for a dark shade of navy or burgundy or stick to classic black.