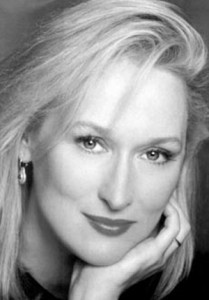 Hollywood veteran Meryl Streep has has earned her 16th Oscar nomination for film "Julie & Julia", becoming the most nominated actress in the Academy history. Hollywood legends Katherine Hepburn and Jack Nicholson are the other two actor with an impressive tally of nominations, 12 each.
The 61-year-old actress may have the record of most nominations but she has not been so lucky when it comes to winning the golden trophy. Streep won her first Oscar for best supporting actress for "Kramer vs.
Kramer" when she was 30 and her second win was the best actress trophy for her role in film "Sophie"s Choice" in 1982. Hepburn won four lead-actress Oscars and Nicholson a pair of lead-actor Academy Awards as well as a supporting one, the Los Angeles Times reported.
Streep" losses include– "Silkwood" (1983) to Shirley MacLaine; "Out of Africa" (1985) to Geraldine Page; "Ironweed" (1987) to Cher ; "A Cry in the Dark" (1988) to Jodie Foster ; "Postcards From the Edge" (1990) to Kathy Bates ; "The Bridges of Madison County" (1995) to Susan Sarandon; "One True Thing" (1998) to Gwyneth Paltrow ; "Music of the Heart" (1999) to Hilary Swank; "The Devil Wears Prada" (2006) to Helen Mirren; and "Doubt" (2008) to Kate Winslet. Streep lost her first supporting bid — "The Deer Hunter" (1978) — to Maggie Smith and "Adaptation" (2002) — to Catherine Zeta-Jones for "Chicago".
If Streep wins on March 7, it will be 27 years since her previous victory.
Related posts: