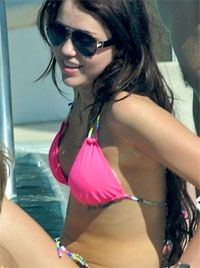 Teen sensation Miley Cyrus is trying to coax her pop singer friend Taylor Swift into getting the same tattoo as hers. The 17-year-old reportedly wants Swift to get the words "Just Breathe" which she has inked under her left breast, reports femalefirst.co.uk.
Taylor on the other hand has no body art and is said to be horrified at the thought of getting a tattoo. "My mom would kill me! Besides I hate needles," Swift, 20, reportedly told Cyrus. Meanwhile, Miley is also set to take a group of family and friends to spend New Year with her in London.
"I am staying in a London apartment with my friends and family. So overall there will be around 12 of us in this one apartment with two rooms. It would be a very cosy affair," starpulse quoted Cyrus as saying.
Related posts: