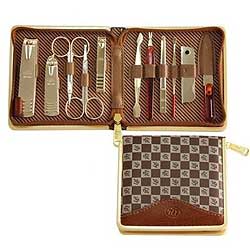 Summer is finally here, and that means it's time for vacation! Rather than let yourself get bogged down under a suitcase full of hair and skin care products, grab helpful multitasking minis that will let you pack your essentials without weighing you down.
For starters, reconsider packing the hair dryer, curling iron, and flat iron. Many hotel rooms have wall-mounted hair dryers, but if you must bring your own, look for a folding mini or travel model that will better nestle into your luggage. And a 2-in-1 styler like the Conair Mini U-Style ($20; drugstores) lets you straighten or curl without packing two seperate bulky tools.
Pare down your hair products by selecting only the few stylers you'll really need, such as a basic hairspray. Remember the TSA rules regarding carry-on luggage and liquids, and pack accordingly! Mass retailers like Target offer a great selection of travel-sixed shampoos, soaps, and more, or you can buy the empty 3-ounce plastic bottles for around $1 apiece and refill them from your existing shampoo bottles at home.
A 2-in-1 facewash that cleanses and gently exfoliates will save you from packing a separate scrub. If you pack fragrance, look for a portable rollerball, which is uber-compact for travel. You'll also want to pack a good moisturizer, since travel can wreak havoc on your skin, and a good lip balm; grab these with SPF so you'll be covered day and night with one product.
For makeup, look for a multitasking foundation stick to take the place of separate concealer, foundation, and powder; or forgo the heavy foundation
Related posts: