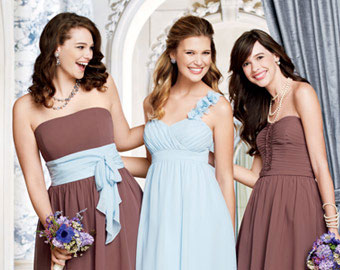 Second to planning her own fairytale wedding, getting news of a BFF's engagement is one of the most exciting moments of a girl's life. But what do you do when the news suddenly comes with huge price tags attached? Like Kristin Wiig's character in 'Bridesmaids', sometimes a girl feels stuck between a dollar sign and her friend's happiness, but you don't have to let the financial aspect ruin your friendship. Here are three scenarios you might encounter, and how to deal!
Scenario #1: The destination wedding. Can't afford the airfare, hotel, and other assorted costs of a week-long soiree in Hawaii? You're under no obligation to attend and while it hurts to miss a friend's wedding, putting it all on your credit card is an unwise move that can have long-reaching negative consequences. Many couples realize that their invitees are not necessarily able to attend a long-distance wedding, so a gracious (and early) explanation and RSVP card should suffice.
Scenario #2: The spendy bridal party. You and your BFF pledged to be each others maids of honor when you were six. But now she wants you to shell out major moolah for the dress, parties, and other expenses that you simply can't cram into your budget. Take a deep breath, sit down with her, and gently explain your situation. Is she willing to make a few concessions to help you out, like finding less expensive bridesmaids' dresses? If not, are you able and willing to bow out of your spot?
Since you're good friends, you should be able to talk it through, but remember that the bride is under a lot of pressure and she might not react as well as you hope. So choose a quiet time to talk to her, and if she's less than gracious, try to cut her a little slack.
Scenario #3: The wedding registry is outrageous. Many registries allow guests to "split" a gift, but if that's not an option and all of the items are way over your budget, don't panic. A check tucked into a thoughtful card is an acceptable alternative, and allows you to give however much you can afford.