Coachella is arguably the chicest outdoor festival of the season, with celebrities flocking to hear their favorite artists and bringing their high style along for the waiting paparazzi. It makes sense: Coachella has become a sort of brand in and of itself, and it attracts major fashion brands like H&M, Lacoste and Opening Ceremony to host parties and mini-events at the festival. Major magazines like Nylon also host events at the festival that attract well-dressed guests.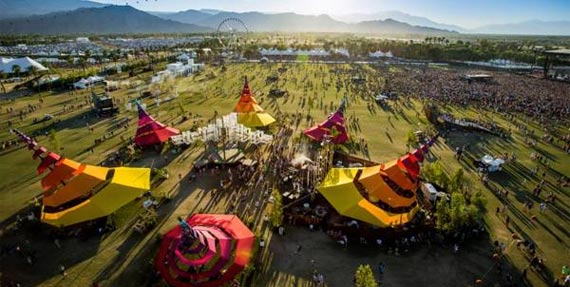 Looking good when you're outdoors in the heat and the sun takes a little extra work, but you too can capture the festival style as seen on chic celebs like Vanessa Hudgens and Drew Barrymore. Here are some tips to get you started:
– Dress for changing temperatures. The daytime scene can be hot, but when evening falls the temperature will dip and you can end up shivering. A scarf that doubles as a wrap will aid in the transition and can also serve as a head scarf to keep the sun at bay. Wearing thin layers will also help since you can take them on and off as you get warmer or cooler.
– Wear sturdy shoes. Sandals would seem to be the obvious choice, but they won't protect your feet in a crowd or in muddy conditions. Sturdy mocs, sneaks (like the ever-popular Chuck Taylors) or flat booties are all great alternatives. This year, floral Doc Martens seem to be super-popular and are a great mix of feminine and tough.
– Keep your hands free. A crossbody bag keeps your necessities close without the worry of dragging around a handbag.
– Have fun with boho trends. Fringe, crop tops, wild printed maxis, sheer tops—all of these boho trends are big at Coachella, and what better time to experiment with a wild trend that you otherwise might not find wearable?
– Go low-key with hair and makeup. Beachy waves and messy buns are your friend; don't fight to keep hair perfectly straight and frizz-free. Head scarves have been a big trend this year and floppy hats and fedoras are always popular at Coachella. Floral hairbands are also popular and distract from messy hair. Similarly, your best bet to avoiding the dreaded melting makeup face is to apply less in the first place. Start with sunscreen, then sponge on a tinted moisturizer and use a waterproof mascara to avoid raccoon eyes. A tinted lip balm or stain will add a pop of budgeproof brightness to your face.