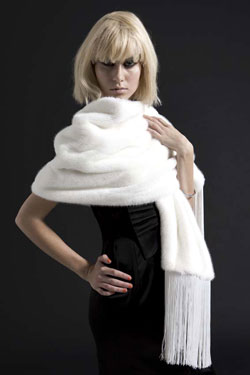 Copenhagen artificial fur is a brand new cruelty free animal fur alternative. Earlier this year Copenhagen Artificial Fur finally opened their first shop in Copenhagen, Denmark after years of research and preparation. The company specializes in luxury artificial fur jackets and accessories of a very high quality both when it comes to materials, manufacturing and not least the design. The collection is produced locally in Denmark, and materials are sourced within the EU (European Union) thereby cutting transport time and ensuring proper working conditions during production. It is also believed that the production of artificial fur admits less pollution than the farming and processing of animal fur. These unique products are now available worldwide in the new web shop.
The designer Carsten Juhl, who has previously designed luxury wedding dresses for a 5th Avenue bridal atelier in New York City, is the man behind the elegant design and together with company founder Gitte Lakshoej he has created a unique concept that encapsulates both ethics, quality and high fashion.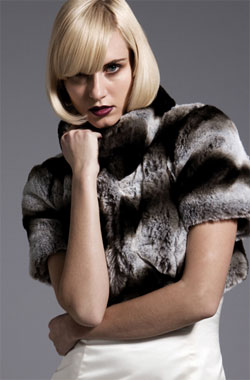 Fur has the fantastic ability to make women look glamorous and sensual, but many modern women find classic fur coats impractical and unflattering to wear and as the climate becomes gradually warmer, the need for such coats becomes less relevant. Also the increase in people taking a stance against animal cruelty makes this the right time to launch a truly luxurious alternative to animal fur.
The vision for the collection is simple, make women look fantastic, bring out the best and emphasise the best features. Therefore Copenhagen Artificial Fur offers a variety of smaller items such as shoulder wraps, stoles, capes and scarves that each add a touch of glamour and sensuality but does not overpower the person who wears them. One of the most flattering items in the collection is the shoulder wrap that sits securely on the shoulders adding volume, making the waist look slimmer, a feature that is popular with most customers. Copenhagen Artificial Fur is popular with brides and partygoers alike, but many items in the collection are also perfect for more casual use.
Related posts: