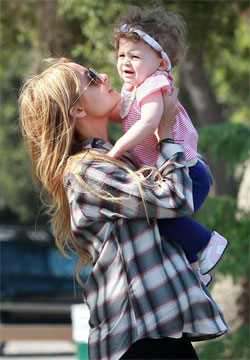 Nicole Richie and Joel Madden have reportedly furnished their unborn kid's nursery in the most natural way possible to turn it to a green haven. The couple wants to build an eco-friendly atmosphere for their second baby in their Los Angeles home. Nicole apparently ensured that maximum objects used in the furnishing were naturally derived.
"She fussed over every imaginable detail, right down to the type of cotton in the sheets and the linens to the type of paint used on the walls," Contactmusic quoted a source as telling the National Enquirer.
The source added: "She scoured stores and researched on the Internet for weeks to find wood products that are made from reclaimed sustainable wood from the Brazilian rain forest. Even the toys are an environmentalist's dream. Nicole is a model mum and she's determined to teach her kids to honor the earth."
The baby is due this summer. The couple already has a daughter, Harlow, who is 19 months old.