Seinfeld as a fashion icon? Believe it. 'Normcore', the latest trend to sweep the world of high fashion, is all about looking decidedly low-fashion, and it hails back to the grunge trend of the early 90s.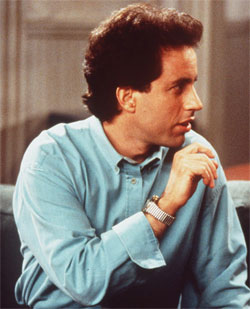 A recent New York Magazine article called normcore "the kind of…non-style you might have once associated with Jerry Seinfeld", but it's more than just a look. Normcore is about rejecting the label-laden, highly self-conscious way of dressing we've embraced for years, explains The Cut blogger Stella Bugbee. She says that it's not anti-fashion, it's just a rejection of hyper-trendy, over the top fashions. Instead of wearing a label head to toe or stepping out in hot-off-the-runway designs, hipsters are now rocking broken-in jeans, baseball caps, fleece jackets and chunky sneakers.
For those in the workplace, labels are being tossed out in favor of low-key "uniforms", much like Steve Jobs' famous black turtleneck and blue jeans. Having a uniform for your everyday life might not be terribly exciting, but one can't argue that it isn't practical, especially when packing for a week-long business trip.
You can already see the self-aware "normal" fashions if you open up a spring copy of Vogue or Elle, where flat sneakers and Teva sandals (remember those?) are displayed with designer frocks. But keep in mind: these "normal" designs don't come at K-Mart prices. Prada and Miuccia both rolled out Teva-style sandals for S/S2014, but you can bet they won't ring up at $49.95 at the cash register.
And some early adopters of normcore are already lamenting that the rest of us are doing it wrong. K-Hole, the New York trend forecasting agency, says that normcore isn't about mom jeans. Posting on their Facebook page, Los Angeles journalist Christopher Glazek explains, "Normcore means you pursue every activity like you're a fanatic of the form. It doesn't really make sense to identify normcore as a fashion trend – the point of normcore is that you could dress like a NASCAR mascot for a big race and then switch to raver ware for a long druggy night at the club. It's about infinitely flexible, sunny appropriation." K-Hole later added via Twitter that normcore is about "[finding] liberation in being nothing special".
It's unlikely those protests will make much of a difference to those snapping up the normcore fashions from their favorite designers; either they'll embrace what comes off of the runway or they won't, and the underlying philosophies probably won't matter all that much. But there's another thing to consider: fashion is cyclical and tends to come around every twenty years, so it seems just about right that this relative of early '90s grunge dressing has arrived with such force in 2014. But that also means that people who rocked plaid shirts and white sneakers back in the Nirvana days are now professionals and parents with slightly different fashion tastes (and fashion needs). Will they really want to buy the same styles they wore in high school or college? Only time will tell!