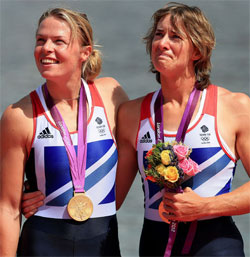 This autumn, British stars are popping up all over the map as the famous faces of hot clothing and lifestyle brands. Now, throwing their hats in the ring, a pair of Olympic rowers (and gold medal winners!) are embarking on a new career as models.
Katherine Grainger and Anna Watkins just got done collecting their gold medals for Team Great Britain at the 2012 Summer Olympics. Now, the ladies are set to be the new brand ambassadors for Long Tall Sally, as the company launches a new Long Tall Sally Row capsule collection.
Long Tall Sally offers clothing designed exclusively for women five foot eight and taller. Their collection features trousers with longer inseams, shirts with longer sleeves and tails, dresses with longer hemlines for taller women, and shoes in a larger size run than what is typically available at the department store.
Long Tall Sally was the official clothing supplier for Team Great Britain's women's Olympic rowing team, so choosing a pair of gold medal winning rowers to represent the brand is a smart and savvy move. The new leisurewear collection is designed especially for very tall women, for whom shopping can often be difficult when hems and sleeves are cut to fit shorter customers. Both Grainger and Watkins are over six feet tall, so they're perfect models for the brand.
At the launch of the capsule collection in London, Grainger explained that as a tall woman, finding clothes off the rack is incredibly difficult. The worst piece to shop for, apparently? A pair of trousers! But she explained, 'That's what's nice about places like Long Tall Sally, the clothes are made specifically for the taller woman. It feels good to pick things off a shelf and think that maybe you're not so much of a freak after all!'
Related posts: