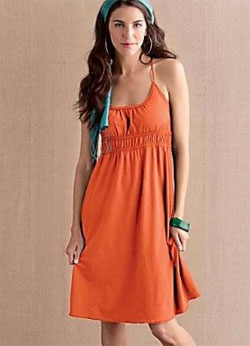 The Pantone Color Institute has an annual tradition of choosing the "it" color for the New Year, and they must have been feeling especially peppy for 2012: the color of the year is tangerine orange! If wearing such a bold hue has you nervous, relax: it's easy to wear this shade if you follow a few key tips.
For starters, you need to be wise about pairing orange with neutrals. Black is a huge no-no, since the two together scream "Halloween". White, browns and tans, and nude beiges are all great partners, but make sure the undertone is the same. Warm nude beige or a crisp gray would look great with orange, but the wrong grayish-pinkish-nude could clash terribly with a hot tangerine.
Keep in mind that there is no one "right" shade of orange; you can go softer or bolder, with cooler or warmer undertones, depending on your skin tone. However, almost any orange you buy will look great with other citrus-hued items, like yellow flats or a ruby grapefruit-hued clutch.
If you're really nervous about purchasing an orange item of clothing and who wouldn't be, under those tricky dressing room lights here's a neat trick for finding the right hue: pick up a few paint chips from a hardware counter and check them against your skin in natural light. When you've got the right shade, take the chip to the department store so you can compare it to clothing items for a tried-and-true match.
If a solid piece of apparel still scares you, bold orange jewelry or accessories are a nice alternative to allover orange, and can dress up even evening or work outfits. Orange pumps are red's kickier, fresher cousin, more samba than sex appeal, and are a fun way to inject life into a dressier ensemble. They're also a great way to doll up jeans and a white tee in a hurry!