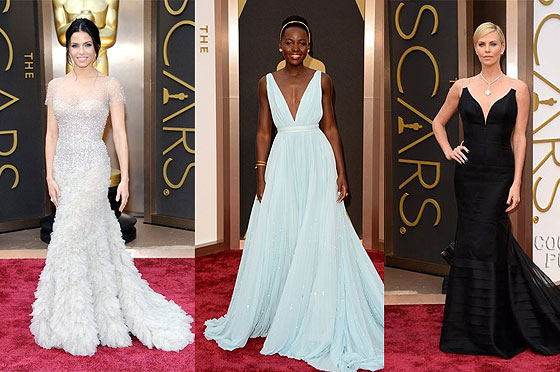 One of the premier fashion events of the year, the red carpet at the 2014 Academy Awards did not disappoint style lovers! Celebs arrived in every hue from palest ivory to fiery fuchsia, and there were plenty of different styles of gowns on display. Of course, along with all of the great trends were some really bad (and downright ugly) examples of how not to wear these trends, so let's take a look at the best and worst of the trends on the Oscar red carpet.
Nude tones
Arguably the most prevalent tone of the night, shades of nude, blush and ivory could be spotted on tons of major celebrities: Angelina Jolie, Cate Blanchett and Jenna Dewan-Tatum all opted for pale gowns. Some, like Jolie in an Elie Saab Couture design, opted for sparkling embellishments on their dresses. Others, like Blanchett in Armani, opted for heavy embellishment to add interest to the pale hue. Close to the nude trend, other celebrities opted for hues like white or even silver (Jennifer Garner in Oscar De La Renta).
However, not every star pulled off her nude frock. Some just looked terribly washed out! The key: a little embellishment helps make it clear the look is purposeful; "done" hair and glam makeup help keep your features from disappearing.
Bold jewel tones
The red carpet wasn't entirely without color. Blue was a favorite among the A-list on Sunday night, with celebs including Lupita Nyong'o (in Prada), Sandra Bullock (in Alexander McQueen) and Amy Adams (in Gucci) in shades of blue. Blue is a great color to transition from winter to spring, as it can work with both spring's lighter pastels and any darker winter wardrobe elements (like a black coat or brown satchel) that are lingering in rotation with the colder weather.
On the flip side, a couple of stars went astray with their jewel-toned selections. Liza Minnelli made the mistake of matching her hair to her blue pantsuit. Meanwhile, Gabourey Sidibe tried to mix fuchsia with ruffles, but the effect was too much; a little less distracting texture would have allowed the color to pop beautifully. As it was, the dress wore her!
Black and white
The classic trend continues strong for spring 2014, as evidenced by the choices of Kate Hudson (a beaded white Atelier Versace gown with a plunging front and back) and Charlize Theron (a sculptural black Dior Haute Couture creation). Structure and embellishment were key factors in creating these amazing looks.
However, don't go overboard. Anna Kendrick couldn't decide whether to go with layers, mesh, ruffles or an asymmetrical neckline, and her dress was a mess as a result. Also, remember that black doesn't make you look thinner if it fits poorly; Julia Roberts went for trendy with lacy peplum, but the overall design made her look thicker than usual and a touch matronly.
Related posts: