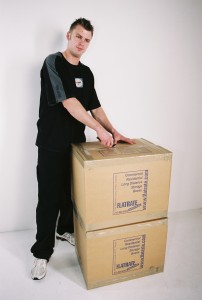 Flying during the holiday season can be stressful, exhausting and consumed with unexpected delays and crowded airports. The last concern of a weary traveler should be whether or not their belongings will make it round- trip in one piece.
FlatRate has seen it all when it comes to packing, moving, and storing, and the holiday season and travel is no exception. Follow these simple guidelines during the holiday season will relieve stress and help your gifts and packages arrive safe and sound. Follow the below to make the most of the holiday travel season.
1. Transporting Gifts:
If you're a big gift giver, you may want to send the gift ahead of you. This way you have more control. You can chose the best shipping carrier and spend extra time properly packing gifts. This is probably the best way to avoid the hassle of lugging gifts with you on the plane.
2. If you do decide to take gifts on board:
If you can, think small and flat…think gift card . If you are traveling by air, do not wrap gifts. Airport security will be required to inspect your gifts, especially if there is something in your package that they cannot identify by X-ray.
If you have room, you can put your gift in your luggage and check it to avoid the hassle of security. If your gift is breakable, pack it with bubble wrap and make sure that the airline personnel label it with fragile stickers so it is handled with care.
Take into account:
Every airline has a different procedure, weight and size restrictions for checked baggage. So it is best to check with your airline first.
3. What Else to Pack:
Once you determine the details of your trip, your bag pretty much packs itself. Take into consideration the amount of time you will be gone, the destination, any activities, etc. Since it's the holiday's, be prepared for formal AND informal situations. This includes evening wear, long pants, dresses, shirts and blouses, which should be packed in plastic dry cleaner bags to limit wrinkling. Also, remember to roll pajamas, t-shirts and other casual wear to fit into the nooks and crannies of your suitcase. But, be careful and don't cram your suitcase full. You will end up with an additional charge from the airlines or even worst…underwear strewn on the belt of the baggage carousel.