The spring and summer 2014 collections were on display recently at Paris Fashion Week, and there were lots of inspiring designs that will be making their way to the high street. Aside from some downright silly trends – such as model after model having a single wisp of hair stuck to their lip gloss – we did see some interesting designs that are likely to set the tone as we move into the new year.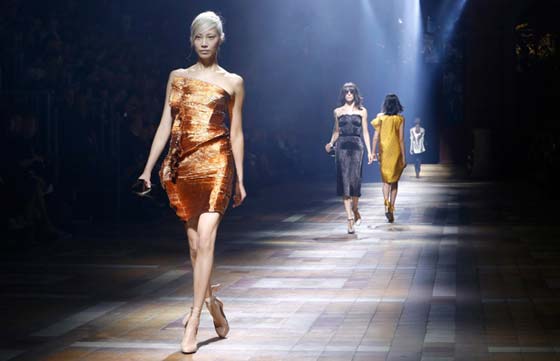 To start, there were more pleats than you could keep count of. Any type of pleat that you could imagine was in evidence on the runways – box pleats, knife pleats, micro pleats and more. Houses from Chloe to Lanvin were at it, showing everything from a white silk cloque dress with stunning pleats through to lurid metallic numbers from Alber Elbaz – these left the models looking like they belonged in a box of candy.
Stripes were also big news in Paris, continuing the trend from London Fashion Week. It seems that we're going to be having that debate about whether vertical stripes are slimming while horizontal stripes are fattening – or vice versa – right throughout the first half of 2014, because they're going to be everywhere. Some of the most alluring examples were finely-cut shirt dresses from Chitose Abe – who was one of the hot attractions for the show – as well as swimsuits from Hussein Chalayan that emerged from deceptive wrap dresses that were reminiscent of beach towels.
It felt like a step back in time, but fringes also put in a credible appearance at the show, with hand-knotted fringes on Junya Watanabe's designs creating a real buzz. We also saw some stunning fringe bags from Phoebe Philo, big and chunky blue affairs with concertinaed leather and sweeping fringes that are just bound to be the center of attention. Whether fringes will actually develop into a full-fledged fashion industry trend that shows up on the pages of My-Retail Media is another question – but don't be surprised if they do.
Blue was the overwhelming color of the show. Nina Ricci showed up with a strapless blue satin cocktail dress that was just gorgeous, as were the blue lace dresses from Stella McCartney. Chloe also put in an appearance with blue – this time with the added twist of macramé that added a more carefree, casual feel to the lineup.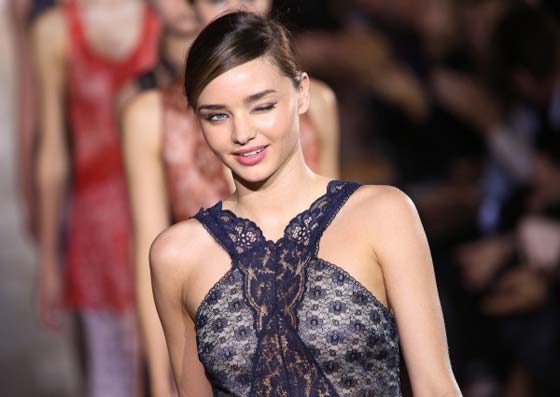 Apparently, quite a few designers had taken a trip to Vegas before arriving in Paris, because showgirl-themed outfits were also on display in abundance. Louis Vuitton was perhaps the most notable among these, with Mark Jacobs making it clear that he dedicated the collection to "the women who inspire me and the showgirl in every one of them." Feather headdresses were also everywhere, giving an effect that lay somewhere between the Moulin Rouge and the Folies Bergère. It was wonderful to see these flights of fancy on the runway – they were works of pure art – but you have to wonder whether any of these will ever make it into the fashion mainstream.