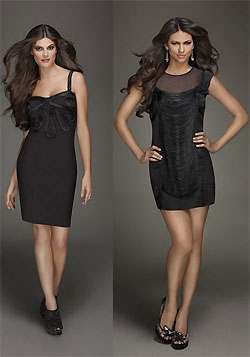 Trying to put together a series of party worthy women's fashion looks for the upcoming holiday season? There are so many looks, both classic and trendy alike, to inspire you. If you're staring into your closet thinking it's time for a little shopping spree to update your holiday wardrobe, here are some suggestions for women's fashion looks to get you started.
A non basic little black dress. One with details that make it utterly personal will stand out in a sea of LBDs. Try one that accentuates a toned back with cutouts, or one with a lace overlay for a little texture.
Something baroque. This trend first surfaced this fall and has been quickly moving over jackets, dress, and handbags ever since. The beauty of a baroque piece is that is has its own ornamentation; there's no need to worry about adding tons of accessories to complete the look. That said, a bold baroque dress with a great piece of baroque jewelry is killer!
A romper. Leggy pantsuits with wide legs and strapless or halter style necklines can look quite sophisticated, if you style them correctly. Essential: modern jewelry and super high heels to balance the hems.
Tunics and trousers. Chilly? If even a pair of tights isn't enough to warm you up, consider a luxe tunic over pants. Even celebs like Emma Watson have embraced this look, and as long as the outfit is matched and very deliberate, with plenty of feminine accessories, it will work fine!
A lady tux. You can go all-out with a matching black jacket and pants, or simply take a tuxedo inspired black and white jacket and pair it with a miniskirt. Either way, the extras are key to keep it pretty: lipstick and your highest, spikiest stiletto heels. Take notes from ladies like Kate Moss and Jennifer Aniston!