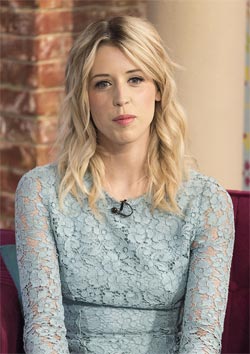 British entertainer and model Peached Geldof died this week at the age of 25. The young celebrity was pronounced dead at her home of unknown causes; a toxicology report is pending.
Geldof was the daughter of rocker Bob Geldof and TV presenter Paula Yates; she had two sisters, Pixie and Fifi, and a half-sister, Tiger Lily. She was married to rocker Thomas Cohen, with whom she had two young sons, Astala and Phaedra. Cohen released a statement saying, "My beloved wife Peaches was adored by myself and her two sons Astala and Phaedra and I shall bring them up with their mother in their hearts everyday. We shall love her forever."
Geldof was discovered at her home after an ambulance responded to a call of a woman in distress; she was later pronounced dead, but authorities are not treating her death as suspicious and a post-mortem was inconclusive. Late this week authorities announced that they hope to glean more information from a toxicology report, which could take several weeks to process; in the meantime the late model's body has been released to her family so they can hold a funeral service.
There's been rampant speculation as to the cause of Geldof's death. Rumors that she suffered from anorexia have swirled for several years, with Geldof shooting back that she was merely avoiding junk food on the advice of her doctor. "I had cholesterol and the doctors said stop eating s–t. So I did. If you stop eating pizza and chips you then don't look like you used to," she said in 2011 in response to the rumors. Those speculations about her health have surfaced again as whispers start that she may have been following an extreme cleanse or "juicing" diet in a bid to stay thin, which could have led to her collapse and death.
Other rumors bring up the Hollywood standby, drugs. Geldof's own omther passed away from a heroin overdose and Geldof admitted in the past that she experimented with drugs and alcohol. Penning a column for Elle UK, she said, "I did get drunk and go to parties, but I was never that wild. I could have been, I could have let myself spiral but all the time I remembered what happened to my mum." Still, there's a possibility that alcohol or drug use could have contributed to her death, though no controlled substances were found in her home.
Now her friends and family are trying to mourn with the frenzy of public speculation outside their door. Sister Pixie canceled her upcoming DJ set at the Coachella music festival in order to be with her family, and other family friends are also quietly dropping out of public events in order to remain close to home.
Related posts: