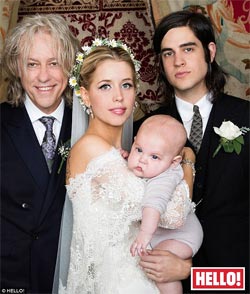 She's never been a traditional girl so it only makes sense that British model Peaches Geldof would have an over the top and thoroughly nontraditional wedding.
The 23 year old celebrated her marriage to Thomas Cohen with a wedding that included no less than three wedding dresses, seven bridesmaids, and the couple's eight month old puppy as a ring bearer.
Just five months after giving birth to the couple's first son, Astala, Peaches looked every inch the fantasy bride in a succession of three custom made gowns from famed Italian designer Alberta Ferretti. Her three sisters, Fifi, Pixie, and Tiger were among the bridesmaids.
The one of a kind ceremony, described as a mashup of a country wedding and Shakespeare's famous play 'A Midsummer Night's Dream', the St Mary Magdalene and St Lawrence Church in the village of Davington, then moved to the Kent country mansion of the bride's father, Sir Bob Geldof. He quipped that he was "relieved" to see the couple married, and added, 'It's a beautiful day, in all senses of the word. I am happy for them. I love seeing people in love'.
The ring bearing puppy in question, Parper, was decorated in flowers, which continued a floral theme noted by Peaches' floral headband. A quirky blue and cream wedding cake was decorated with edible pigs characters depicting Peaches' and Thomas' romance, with Peaches explaining, 'I am obsessed with pigs- I just think they're adorable so they had to play a part in the wedding'.
In an exclusive interview with Hello! magazine, Peaches said: 'I know it might seem old fashioned but I love that Astala will know that his parents are together and have taken the vows we're taken today. I've married the most wonderful man who I know loves me beyond anything, through my faults'.
You can find the full interview, plus pictures of the nuptials and the happy couple, in this week's issue of Hello! magazine.
Related posts: