We've always come in different shapes and sizes, but recently, beauty standards have been trying to convince us otherwise. While the majority of ads show thin, white, and beautiful women wearing sized 2 bikinis, in reality, most women don't match up with those pictures. This probably isn't news to you or your friends, especially if you've spent hours in the changing rooms of the biggest fashion retailers attempting to try on the latest swimsuit styles.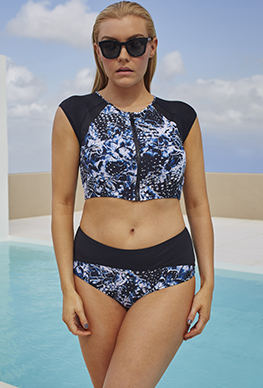 When the average woman in America wears a size 14, major department stores that limit their selection to the single digits are failing you and every other full-figured woman. Luckily, the online marketplace is there to pick up the slack by offering flattering patterns and cuts for every shape and size. It's quickly proving to be a widely successful venture. Women are flocking to these online retailers who provide a solution to their plus sized woes. As a result, the plus sized clothing market generated $17.5 billion in 2013, which was over a 5% increase on sales from the previous year.
When the demand is there, online retailers like swimsuitsforall can offer trendy swimsuits and accessories in a variety of shapes and sizes so that every woman can feel sexy and confident as they sip on their poolside margarita. Open up a new tab and swing by swimsuitsforall.com/plus-size-swimwear to see the wide array of styles specially curated for a full-figured body. With bikinis, tankinis, and one-piece suits available in sizes 8 – 24, there's something cute for everyone. With a stylish and flattering bathing suit, the average woman can feel like Ashley Graham, the first plus sized model cover on a Sports Illustrated issue.
Next to variety, the price of online shopping is perhaps the biggest win for plus sized shoppers. Whereas you and your gal pals could be paying premium prices for specialty sizes at the typical department store, the swimwear you want is available online at discounted prices. Swimwear is also subject to amazing sales that help keep prices low, and a reasonable shipping service makes it a convenient, affordable alternative to shopping in-store.
A size 2 you may not be, but now that you have an online selection of the top swimsuit trends in your size, that doesn't matter. Leave behind fashion retailers who aren't creating trendy pieces for the full-figured woman. You can have a cute and flattering bathing suit sent to your door just in time for summer.