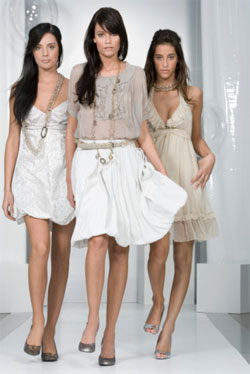 Leading designer houses and designers have come forward with their pre fall collections for the year 2011. It gives us a sneak preview of what to expect in their fall and winter collections. The pre fall collections carry forward the flair of the spring collections with bright moody colors and a reminder of all things feminine and yet comfortable.
One of the major trends showcased by designers like Vera Wang, Vivienne Westwood, Chloe and Oscar de la Renta is the schoolgirl look. Short hemlines worn with knee high socks and tights are the way to go. The bold and bright colors seen in the spring trends continue into the pre fall collections. Red is a hot favorite with most of the designers and with subtle silhouettes this bold color looks classy in creations by Thakoon, DKNY and Jenny Kayne.
Classic men pants have found their way to the pre fall collections too, pair them with formal shirts or blouses for office wear and flaunt your attitude with satiny shirts and pants for an evening out. The 70's hangover continues with the maxi dresses. Bold and powerful prints were a hot favorite with Tory Burch, Burberry Prorsum and Tibi.
The pre fall collections generally hits the store in June so they need to be light enough for summer wear too. This was the focal point for designers like Adam J. Mendel, Thakoon and Rag and Bone who came out with lovely creations that look great by themselves and will look stunning when paired with tight knits or layered for the fall.
Related posts: