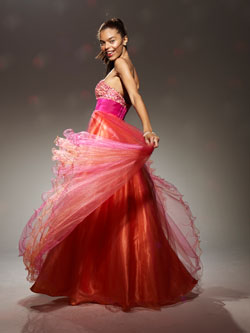 Prom is right around the corner! If you haven't picked out your outfit yet it's not too late. Here are a few tips to make sure you have the best prom ever.
1. The Look
Next to your wedding, you will probably never be photographed as much as you will be during prom festivities. Your parents, your dates parents, your friends and their parents, official prom photos. There will be a lot of pictures floating around for years to come! Go for a more timeless look that you won't be embarrassed of when your kids someday go through them.
2. The Dress
There are a lot of great trends this year. Check out the collection of fashionable prom dresses at David's Bridal. They have everything from fun printed dresses to classic princess ball gowns. If you go for a short dress, go for something more modest on top. If your dress is backless, choose something less revealing in the front. Remember, it's prom, not an episode of Dancing With the Stars!
3. The Accessories
Your accessories should be based on your dress. If you choose to wear a simple dress, you can easily dress it up with fabulous accessories. Strapless dresses are great for necklaces but if you're wearing a halter you are probably better off with a cute pair of earrings and a bracelet. Just make sure not to bling yourself out too much, leave the disco ball to the prom decorating committee.
4. The Shoes
Though you're going to be tempted to buy a new pair of the highest heels you can find, be warned! From taking pictures before prom through the rest of the night, prom is hours long and it definitely takes a toll on your feet. Wear shoes that you know you'll be comfortable in or take a pair to change into later so you're not walking around barefoot or demanding a piggyback ride from your date. You'll be thankful you did, and so will he!
5. Have fun
The most important tip is to have fun! Prom will be one of your greatest memories of high school. If you look great and are comfortable you will undoubtedly have a great time so keep these tips in mind on your big night.
Related posts: