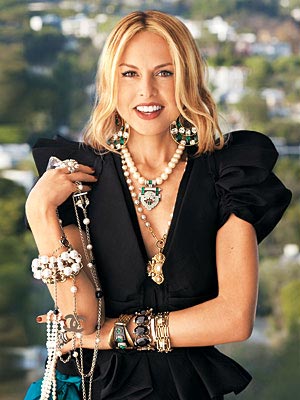 Is Rachel Zoe's fashion line in trouble? We die!
Rumors are bouncing around that the stylist to the stars may no longer be in vogue, as cracks in her fashion empire are apparently becoming more and more visible. Zoe has by turns been loved and reviled by the fashion world, but it's never been doubted that she's one of the most popular celebrity stylists in Hollywood, with a client list that includes such A-list beauties as Cameron Diaz, Kate Hudson, and Eva Longoria.
However, as the rumors have gotten louder, it seems there may be some truth to them: major British department store Selfridges is said to be quietly dropping her collection.
The Daily Mail quoted a source as saying, "Rachel will not be doing any public appearances in London. "Her London launch didn't go as well as she'd hoped. Selfridges dropped her clothing line because it was very expensive. They still have her shoe collection but the clothing line wasn't as successful as hoped." This apparent dumping of Zoe comes despite the collection launching less than a year ago, with great fanfare.
Meanwhile, the New York Post is reporting that interest in the Californian stylist turned designer has "peaked" and, as a result, sales of her line are going downhill. Zoe's fashions are currently stocked in stateside stores like Marcus, Bloomingdales and Nordstrom. Reports are also swirling that Li & Fung, the Chinese retail giant backing Zoe's line, are "panicked" over Zoe's poor sales.
However, Alan Chartash, the chief strategy office for Li & Fung, has denied that there's trouble with Zoe. In a statement, he said, "We're very happy. Apparel launched a year or so, and since that time, we've launched footwear, handbags and we're launching a line of jewelry exclusively with Neiman Marcus and Bergdorf Goodman. We're supportive of Rachel and the continuation of the brand. Like any clothing line, it ebbs and flows, but we're very happy with the apparel sales."