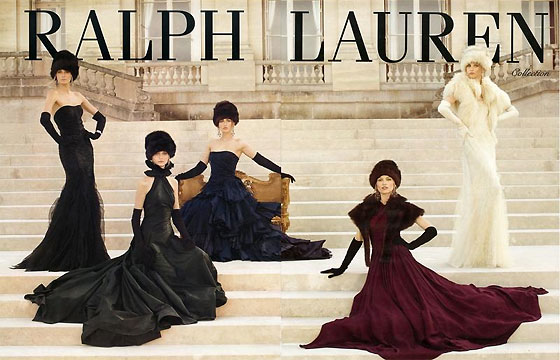 Ralph Lauren has often been called the master of vintage glamour, so it will come as no surprise to his many devoted fans that his vision of the autumn/winter 2013 season bears loads of vintage touches straight from the pages of a novel like Anna Karenina. Lauren explained that he drew the inspiration for his collection from "a timeless heroine, independent and bold", and it would be hard to not feel like a glamorous storybook heroine in his luxe dresses and accessories. Fur collars, bows, jewel-toned dresses and little berets—the look on the runway was very stylized, but the pieces themselves can be worn either for full-on glamour or mixed in with everyday basics for a more subtle look. Here are a four key dramatic pieces and how to work them into your wardrobe:
The oversized coat. Lauren showed a number of dramatic oversized coats on the runway, but the one that perhaps stood out the most was the Crepe Iliana coat, with its epaulets and ruffles. An impressive piece indeed, but how does one wear the coat, as opposed to the coat overwhelming the person? If you're glamming it up for evening, you can simply wear it as a cape for a dramatic, slightly masculine counterpart to a luxe gown. For daytime wear, choose slim trousers and a high heel to elongate your frame and make it clear the coat is a statement piece and not just a sloppy topper to a sloppy outfit. If you're petite and worry that a coat like this could overwhelm your frame, try one of Lauren's other offerings, like the Eugenia coat, which is cut above the knee and has a flirty feminine flare at the hips.
Berets and caps. These featured with almost everything shown on the runway, but if you're not a hat person, you should know that they're quite easy to pull off. Lauren paired them with hair pulled back in a low knot or pony, with a few wisps left out in the front to soften the look. It's less severe than hair pulled straight back and a great way to hide dirty roots! If you want to soften the military effect of these toppers, pair them with feminine tailored separates instead of a second masculine piece (like a jacket with epaulets or a menswear vest).
Cossack pants. They seem intimidating, but Lauren showed an easy way to make them wearable and chic for everyday: pair the black Andreyev pants with a sleek black turtleneck weather and black heeled boots for a sexy yet sophisticated look. If you're hitting a holiday party and want to dress them up, add a ruffled blouse, oversized chandelier earrings, and metallic heeled sandals. Finish off the ensemble with an embossed leather clutch.
Cropped jackets. Cropped tops cause a lot of undue anxiety about appearing wider and shorter than average, but when paired with the right pieces, they won't look disproportionate and can actually help highlight a small waist, as the eye is naturally drawn in to the middle. For daytime wear, Lauren paired his Quentin jacket with hip-length tops and flared trousers, which visually enhances curves and ensures your stomach stays covered. For nighttime wear, you can get more daring with a cropped jacket by pairing it with a cocktail dress and tall boots, as Lauren showed in his show. Adding a couple of long necklaces visually slims while also drawing the eye up and down, cancelling any negative properties of the cropped jacket length.
Related posts: