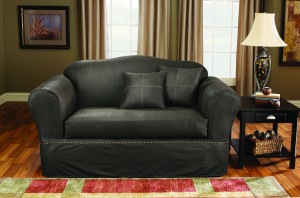 Whether it's scouring discount stores for your favorite celebrity's handbag or considering using that red nail polish to paint the bottom of your high heels to create instant Louboutins, thrifty shoppers are always hoping to find "the look for less" – especially in this economy!
Sure Fit has always been ahead of the game when it comes to "dressing" furniture, and their leather-like Chatham cover with nail head studs is no exception. Spice up your living room and get the look of a leather sofa for just $149.99, saving almost $1000.00 for home redecorating.
With the Chatham cover, you might even save enough for that handbag you've been eying. Plus, it's machine washable and available in two sizes, a great eco-friendly alternative to tossing your old furniture!