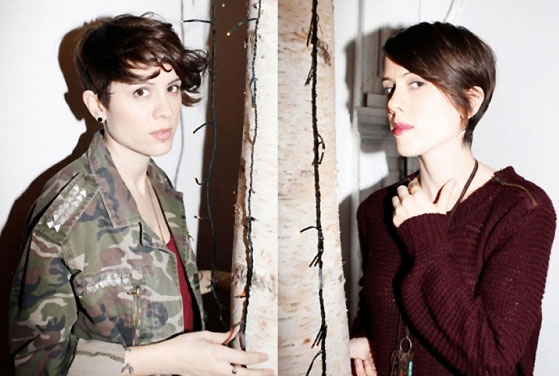 Canadian indie rockers Tegan & Sara return in 2013 with a new album and a slightly new sound to go with it. On their seventh studio album, 'Heartthrob', the dup debuts a more produced sound that's slicker and closer to mainstream pop than they've come before, and for the most part, it works.
Hailing from Calgary, the twin sisters (Tegan Rain Quin and Sara Keirsten Quin) formed their band after high school in 1995 and soon began landing gigs opening for artists like Death Cab For Cutie, The Killers, and Jack Johnson. While the pair quickly became famous for their indie rock sound and soulful lyrics, so their newest album might be a bit off-putting to longtime listeners.
The angsty lyrics are still intact here they're still singing of the agonies of teenage love and heartbreak. The haunting vocals are largely intact, too. But for their latest album, the rock/pop duo went with a more heavily produced sound that's sure to push them from the indie fringe into mainstream pop radio.
It isn't a bad move; it's just one that will likely alienate some fans. It's the same jump from pared down to pop that similar bands like Death Cab and The Killers have made in the past, and while there's very little fluff or filler on 'Heartthrob', some parts of the album simply feel overdone. Hopefully the sisters will continue to polish their sound so it's equal parts gloss and substance.
Review: Coheed and Cambria, 'The Afterman: Descension'
Four months after the release of 'The Afterman: Ascension', the first half of an epic and ambitious double album, New York rockers Coheed and Cambria return with the second half, appropriately titled 'The Afterman: Descension'. The album continues the story of astronaut Sirius Amory, his ascent into space and cosmic achievements, and his descent back to his home planet.
With this album, C&C strives to expand their artistic boundaries in more ways than one. The story of Amory is illustrated not only in the songs but in a lush coffee table book by singer Claudio Sanchez, complete with song by song details and illustrations. More important by far than the rock opera packaging however is the way C&C has used this new album to expand musically.
While C&C is typically referred to as progressive rock or post-hardcore, they show off a range of musical stylings on their newest album, ranging from arena rock to emo to metal to even a bit of 80s-ish pop, complete with a horn section. Many of the band's influences, such as Thin Lizzy and Pink Floyd, are easily identified in the ever-changing musical landscape of this part of the Amory saga.
Some long time fans will probably scratch their heads at the change, but the disc is worth a serious listen. Bands always run a risk when changing or expanding their sound, but for C&C the change works; their increased accessibility is not in spite of their willingness to experiment, but because of it.