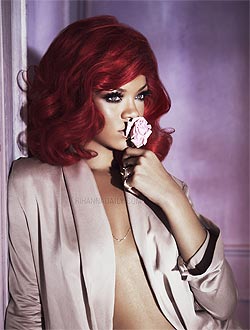 Superstar Rihanna has ditched her siren red locks for a brunette 'do! Tabloid pics from earlier in the month showed the songbird with a natural-looking brunette shade while she partied at the Kadmooment Day parade in her home country of Barbados. But with all eyes on her scanty carnival queen get-up complete with a skimpy jeweled bikini and red fethered headpiece the new color didn't get much attention.
But on Friday, at the U.K. launch of Rihanna's new fragrance, Reb'l Fleur, her gorgeous new shade was on full display.
Ever since she chopped off her long locks for the cover of her album Good Girl Gone Bad, Rihanna's been a bit of a hair chameleon, experimenting with different cuts and colors. This summer, she made a dramatic switch-up with extensions and a neon red hue. (Her red hair can still be seen in the September issue of Glamour magazine, for which she's the cover girl.)
Rihanna's rich, warm brown is the perfect complement to her natural beauty. It still has a touch of auburn to it, which suits her fiery personality.
If, like Rihanna, you're thinking about switching it up, keep in mind: the color you start with affects your result. Rihanna likely had pro help with her switch, but if you're thinking of going the DIY route, remember:
– Stay within two shades of your natural do.
– If you're a natural redhead, stick to natural or "ash" shades to tone down the orange effect. Be aware that you won't completely cover the red, though–your results, like Rihanna's, will be slightly auburn.
– If you're blond, work in steps. Platinum blondes should use a light golden brown as a "filler" to add warmth; golden blondes can use a natural or ash-toned light brown first. Then move up to a darker brown.
The Reb'l Fleur by Rihanna collection includes eau de parfum spray and body lotion, and retails for $30 to $59.99 at Macy's stores and Macys.com. View the enchanting "Reb'l or Fleur" video at www.rihannareblfleur.com.
Related posts: