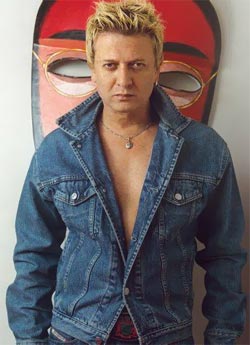 Trust the grand czar of fashion to define opulence. Designer Rohit Bal has spent a whopping Rs 10 crore for the interiors of his new restaurant, Cibo, at Hotel Janpath, Connaught Place. Spread over 14,000 square feet, the restaurant screams Italian grandeur. Divided into an outdoor eating area, an inner bar with a lounge space and an exclusive private dining room, the restaurant can accommodate over 350 people.
A towering monolith marks the entrance of the restaurant with a 20-foot high 'grape' fountain in the middle of the courtyard.
Marble fireplaces and wood bake ovens have been imported from Italy and the indoor furniture is covered in gold foil.
Bal's partner in his dream project, Alok Aggarwal, says, "It took us six months to complete the project. Rohit and I come here every day to check the progress." Priced at Rs 2,000 per head in the dining area and over Rs 5,000 per head in the private dining rooms, the restaurant is not meant for all, says Aggarwal. Interestingly, Hotel Janpath does not really boast an elite clientele, but they are unfazed by this.
The designer already has a restaurant, Veda in Connaught Place. Cibo is slated to open mid-March.