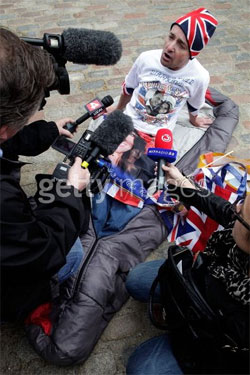 If you are in London and not invited for the Royal Wedding, have you staked out your spot to witness history!?
With just two days to go, people have started to stake out coveted spots to be able to witness the wedding procession. Many people have already chosen their favorite spot and are settling down there for their long wait.
Many of these are fans and admirers of the prince and his bride to be, but there are plenty who were admirers of Princess Diana and are here to witness her son's wedding. In fact there are quite a few who had staked out 30 years ago too, to witness the Royal Wedding procession of Prince Charles and the late Princess Diana! One of them was seen sporting a T-shirt that said "Diana would be proud"!
The first person to claim his space was John Loughery, who has reserved a spot near the entrance of the Westminster Abbey. He is a great fan of the late Princes Diana and is her so that he can see her son and his bride as soon as they step out of the Abbey as newly weds. He is enjoying his celebrity status, with multiple TV channels asking him the same rhetoric questions and is also indulging the tourists who are happy to click pictures with him.
A few spaces away from him, is 76 year old Guen Murray, who has pitched tent and is waiting for her daughters to arrive. She is a veteran as she had camped out for Prince Charles and Princes Diana's wedding too!
And fans like Dent have traveled all the way from Canada so that they can be part of history and say they were right outside the Abbey when the Prince William and Catherine Middleton got married!
Related posts: