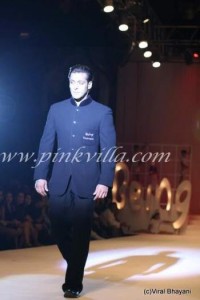 This is the second time in 30 days that you are back in Kolkata…
The last time I was in Kolkata to play a football match with Mohammedan Sporting Club for the promotion of WANTED, I had to postpone the match and go back as people literally went crazy. But I was overwhelmed with the love and respect they showered on me and I had promised to come back. Aur ek bar hum kisiko commit kar dete hai toh hum khud bhi who commitment nehin tod sakte… by the way this is a dialogue from WANTED (smiles).
This time you danced, sang and even delivered dialogues on stage…
Yes, we arranged a small event for the promotion of my film LONDON DREAMS…I have a huge…massive fan-base in Kolkata. I just wish I can spend more time with them and interact with them more frequently…if only the distance between Mumbai and Kolkata could have been shortened! Otherwise, bahut lambi flight hai bhai!
Talking of LONDON DREAMS, you seem to share a very good on-screen chemistry with Asin…
Yeah, that's because, off-screen too, we are very good friends. If your off-screen chemistry is good, then only your on-screen chemistry clicks.
There are news that you have got particularly fond of Asin…
That's because she is one of the most wonderful persons I have met in my entire life. She is never tensed over the fate of a film, she has no ego, no tantrums, she is so simple, yet so elegant. Even in GHAJINI, her romantic scenes were more appreciated than the action sequences.
We are seeing the painter side of Salman quite often now. How did you get into painting?
It's very difficult to say…I know there are painters who can give a proper answer to this question. But for me, I used to do pencil sketch as a kid…now I straightaway use the brush and the colours. My mother is a good painter…so may be I picked it up from her subconsciously.
You are known for your charity. Recently you even organized a charity fashion show for your organization 'Being Human'. Would you like to elaborate?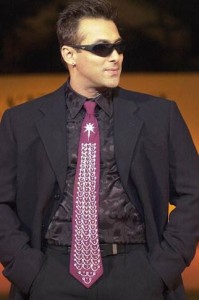 If money can save a life, or can do anything to make a life better, and 'Salman Khan' can help in such ventures, then I try to do that. 'Being Human', as the name suggests, is all about being good human beings and there is a process to become a good human being…you have to feel for others.
Both the seasons of your game show '10 ka Dum' became huge successes. What do you think is the reason behind it…the game format, you or the celebrity guests?
I think it's Salman Khan (smiles).
We heard that you were keen on directing your forthcoming film VEER?
I always wanted to be a director, but acting is fine as-of-now. I thought of directing VEER, but I don't think I can handle acting and directing simultaneously. So Anil Sharma was handed over the responsibility.
Do you still feel nervous before the release of a new film?
No…actually I have never been (nervous). I don't expect anything from my films…I give my best and then leave it to my audience to decide. If the audience reaction is positive, then the film is a hit, irrespective of Box Office collection and reviews.
Everyone seems to be very concerned about your marriage…
Yeah. But I think its high time people stop bothering about my marriage. When it has to happen, it will happen.
Excerpts from: Glamsham. Sreya Basu, TWF, Bollywood Trade News Network
Related posts: