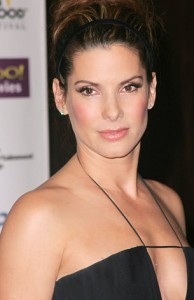 Even though she is in the run for an Oscar this year for Best Actress, Sandra Bullock has been nominated in the Worst Actress category too at the 30th Golden Raspberry Awards for her film "All About Steve". The 45-year-old actress is competing with singer Beyonce Knowles for "Obsessed", Miley Cyrus for "Hannah Montana: The Movie", Sarah Jessica Parker for "Did You Hear About the Morgans?" and Megan Fox, who has been nominated her performance in two films, "Jennifer"s Body" and "Transformers: Revenge of the Fallen".
"Transformers" is also in the run for the Worst Picture of 2009 award alongwith "All About Steve", "GI Joe: The Rise of Cobra", "Land of the Lost" and "Old Dogs". Divas like Madonna, Mariah Carey, Paris Hilton, Jennifer Lopez and starlet Lindsay Lohan have been nominated in Worst Actress of the Decade category.
Actor Ben Affleck has been nominated for the Worst Actor of the Decade alongwith Eddie Murphy, John Travolta, Mike Myers and Rob Schneider. British hunk Robert Pattinson has been nominated in the Worst Supporting Actor category for "Twilight Saga: New Moon".
The film has won nominations in two categories – Worst Remake, Rip-off or Sequel and Worst Screenplay. Travolta has won himself a nomination in the Worst actor category for "Old Dogs", while Steve Martin is in the run for his performance in "Pink Panther 2", Murphy for "Imagine That" and Will Ferrell for "Land of the Lost".
Related posts: