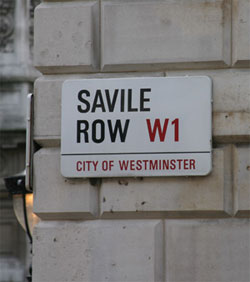 Savile Row in London, which is known for its fine tailors, is locked in a nasty battle with American retailer Abercrombie & Fitch, which plans to open a new store on the street.
The battle has been brewing for some time between the famous street's many tailors and the American outfitter best known for selling jeans and t-shirts. The tailors of Savile Row are concerned that the chain's arrival will damage the reputation of the street and make it a less appealing shopping destination for its affluent, upper class customers.
Abercrombie & Fitch already has a men's and women's wear store open in neighbouring Burlington Gardens; the planned store on Savile Row would feature children's clothing and is slotted to open this spring. Disgruntled tailors have banded together to protest the opening, and the case has even become the subject of review by Westminster Council. Recently Abercrombie & Fitch was informed that they would not be allowed to celebrate the opening of the store with a star studded opening party; nor will they be allowed to play music that can be heard in the street; nor may customers park prams outside of the store on the narrow street.
The measures were designed to appease the unhappy tailors, but even such measures as these aren't enough for the older residents of Savile Row. Mark Henderson, the chairman of heritage tailors Gieves & Hawkes and of the professional non-profit organisation Savile Row Bespoke, has spoken out about the planned store.
"Savile Row is a terribly famous address, associated with the world's best tailoring," he told the Evening Standard. "Putting in a children's store to sell jeans and T-shirts seriously damages the integrity of the street. The other aspect to this is it's a narrow, quiet street and the Abercrombie model is to pile it high and get large quantities of customers in crowds of people inside, crowds of people outside. That means a lot more people on the street. That makes it less pleasant for our customers, whom we have built up over 200 years, to come to Savile Row."
Abercrombie & Fitch has so far not commented on the situation; however, they did appeal the Westminster Council decision. The matter will now be decided by a public planning inquiry.