Almost everyone could use a little extra cash, and chances are earning a few extra bucks is easier than you think—you've probably got lots of unused and unwanted items in your house that could be sold for some easy cash. One of the easiest ways to make a few extra bucks is to sell or trade your unwanted CDs, DVDs, books and video games. Obviously you could just post your items to eBay, but there are other ways to sell your unwanted items and make a small profit.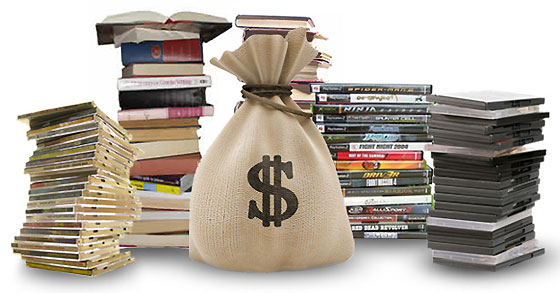 Trade in at a local store
Many chain bookstores accept gently used books, CDs and DVDs either for cash or store credit. You may be offered a higher value for your items if you take a store credit, but you'll want to consider whether you'll use it in the near future. If you tend to buy lots of books, CDs and DVDs from a brick-and-mortar store, then this can be a good deal and save you a few extra pennies in the long run. However, more and more people are switching over to purely digital entertainment, with e-books, downloaded music and streaming video, so if you are making the switch to a digital format you may be better off taking the cash sum and putting it toward your digital collection.
Video games are another matter. More companies are creating games that require a special activation code and can only be played on one device; while these measures are designed to fight piracy, they can also render some games useless as a resell, so be aware that not all of your used games may be eligible for trade. If your games do have a trade-in value, you may again have the choice between cash and store credit.
Sell on the internet
Sites like Second Spin exist to make the process of selling your used CDs, DVDs and games as pain-free as possible. If you don't have a local store where you can trade your used items, this is a good option; there are lots of different sites out there offering different deals and terms, so be sure to browse a few before settling on a service. Be aware, however, that you'll probably earn less from these trade-ins than you would be listing the items individually through a site like eBay. Ultimately you'll have to decide whether you're more interested in earning the higher dollar amount or in the quick convenience of a one-stop, in-and-out service that sells your items for you.
Swap your items
Sites like SwapaDVD.com, SwapaCD.com and PaperBackSwap.com help you unload your unwanted items via a swapping system. If you're an avid movie watcher, music lover or reader and you need a cheap way to continue expanding your collection, this is a good way to unload unwanted items while also picking up some new ones—without the cost of hitting the store to buy brand-new. SwapTrees.com has lists of sites swapping books, CDs, DVDs, games and more, so you can compare the services side by side before you choose one.
Donate to a charity shop
If all of the hassle of trading or selling seems to be too much, you can always donate your items to a local charity shop. Be sure to get a receipt showing the value of the items you donated, and you can claim it on next year's tax return. This is also a great way to make a little cash from other items like clothing, toys and furniture that may not be easily sold or need to be passed on in a hurry because of moving to a new house. While you won't get the instant cash of a trade, you'll still get a small financial gain from your items at the end of the year.
Related posts: