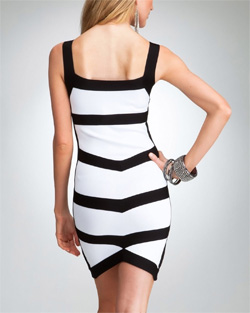 Stripes are practically a summer fashion staple, and this year is no exception. There was an explosion of stripes on the summer runways, from designers like Moschino and Prada; clothing boutiques everywhere are brimming with striped clothing and accessories; and actress Olivia Wilde even sports a striped top on the June cover of Glamour magazine.
Stripes can be a bit intimidating for the pattern-shy, but this perennial favorite is surprisingly wearable. Vertical stripes are commonly held to be more slimming than horizontal stripes, but that doesn't mean you have to ban the latter from your closet. Just stick to skinny stripes instead of bold bands. Alternatively, diagonal stripes tend to flatter any figure, since they don't exaggerate curves the way straight horizontal or vertical lines tend to do.
The most classic nautical-inspired looks typically involve black, navy, or red with white, but you can find loads of color options out there, from the bold to the subtle. Try a tone-on-tone stripe, like navy with blue or two differing shades of any other color, if you're shy about flat out black-and-white stripes.
Another way to dip a toe into the trend is to start with a small accessory, like a scarf, bag, or shoes. This is also a great way to add a little pizzazz to a plain outfit!
Slightly oversized striped tops look great paired with short-shorts and wedge sandals for summer, and keep the vibe casual. You could also tuck a striped top into a skirt to make it more work-appropriate.