This spring, seventies style is taking over in the fashion and beauty departments in a major way. Whether you're a boho flower child at heart or you're seriously craving some mod style, here are a few ways to incorporate this trend into your life.
If you love the boho look…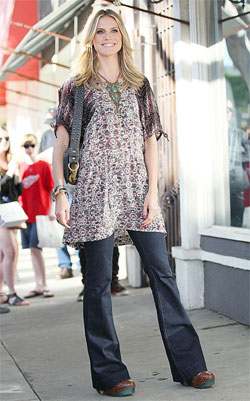 A maxi skirt is a chic alternative to a mini, and it's warmer too if your spring weather isn't exactly "balmy". A flowy dress with a maxi skirt and long sleeves is an instant piece of drama, while a maxi skirt in a bold color can be paired with a sweet blouse for a more versatile look. If you really want to be fashion-forward, look for a skirt with a high slit in the front.
In fact, big and bold are the watchwords of boho style this season! Long necklaces, wide brimmed hats, and lace up flat boots are all majorly in style. As an added bonus, these items offer comfort along with style, so there's no need to suffer for fashion.
Piling on different colors, print, and textures keeps this look eclectic. Try chunky jewelry over a batik print or mix bright shades together for multiplied fun. Details like beading and fringe on everything from dresses to handbags to shoes up the fun factor!
Because boho fashion has so much going on, it's best to keep your hair and makeup simple. Long, loose flowing locks are always perfect, but a long slightly messy side braid is a chic way to keep your hair contained. Turban headbands are a cute way to hide a bad hair day.
Glowy skin, pinky-nude lips and slightly smudgy eyes (no heavy eye makeup) are key to this look. Avoid heavy mascara, blushers, bright lipstick, or colored shadow, which will seem out of sync with the hippie vibe.
If you're more of a mod squad girl…
Black and white is one of the season's biggest trends, and it doesn't get much more mod than a black and white striped or checkered piece. If you're feeling really bold you can go for a pantsuit or a dress, but not to worry: a separate, like a jacket or skirt, is okay too. The really shy can dip a toe into the trend with a bold black and white bag or other accessory.
If you really can't give up your bright colors, try them in the same striped or checkered pattern, and choose retro shapes: a striped sailor tee with denim bellbottoms and platform cork sandals; or a checkered mini with boots.
Like the seventies boho style, nude lips are a hit, but the eye makeup requires a little more attention. Go all Twiggy-esque with faux lashes on the top and the bottom; just be sure to trim the bottom pair down accordingly. Lots of black liquid liner is also a must.
Hair can be worn up or down, but it looks best if it's super-sleek! If your hair has trouble holding straight styles, try a semi-permanent keratin spray, which "sets" the straight style until your next wash.