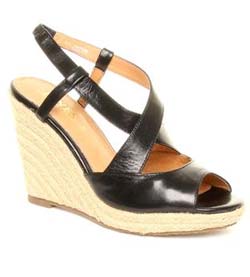 Right now we are slap bang in the middle of that difficult transition period where you are expected to move effortlessly between warm winter chic and spring's new fashion offerings. Unfortunately, the weather rarely seems to get the message about easing us gently into the new season and the result is that we find ourselves stepping out weather ready or season ready but not quite managing both.
With this in mind, the ladies shoes experts over at Jones Bootmaker have given us their take on some of the biggest styles for the coming season and how to wear them now if the weather isn't quite putting a spring in your step. After all, you don't want to miss out on your favourite footwear by waiting to buy once the new season is in full swing.
1) Wedges are a firm spring/summer staple and this year they are stacked high with sturdy wooden soles. For the most part, designs feature peep-toes, which doesn't bode well for those spring showers.
The very brave can wear these with coloured tights and maxi skirts but if you're a little shy you should step into the seventies revival and pair with lightly flared jeans to keep your toes covered.
2) New season heels come in high and low varieties, but with ice still lingering it may be wise to stick with more sensible styles, at least for now. Select less severe courts with almond toe heels for a classic daytime look.
For something a little fun and funky, choose chunky coloured heeled sandals with straps paired with ankle socks or bright opaque or patterned tights a look Alexa Chung has been rocking for years and Sarah Jessica Parker is apparently now favouring (read about that here).
3) The lightweight ankle boot is perhaps the perfect shoe style to help you transition the seasons: choose one of the new soft leather styles and wear with bare legs and short ankle socks when the sun is shining or pop on some thick patterned tights when there's a chill in the air. Buy beige, brown and pastel shades to match your future tan.
4) For spring/summer the loafer and boat shoe get a colour update: forget brown and black they now come in all colours of the rainbow and in different textures too. If you're tempted by the sumptuous shade offerings make sure you protect with suede spray as the fabric can be less of a fan than April showers than we are.
5) Wellingtons have earned year round fashion staple status but it's during spring showers and the summer festival season that they really come into their own. You don't have to wear them loud and bright but you certainly can and there are a huge number of designer styles around that will provide the finishing touch to a weather ready, polished look.