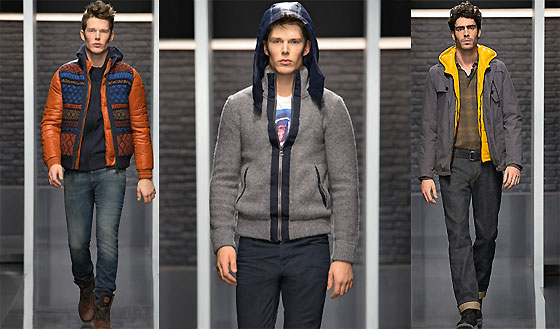 How much thought do you put into your denim? While it's common for the ladies to admit that they have a section of their closet devoted solely to denim, it's true that men also love their denim: most of them own at least a half a dozen pairs, and perhaps more if they get into heavily fashionable styles like colored denim, rips and tears, waxed denim, etc.
But whether your denim tastes run from the simple to the expansive, there are some basic things every man needs to know in order to build a solid denim wardrobe. Here are some buying tips and rules to follow.
Start with two pair of basic, slim or boot cut dark denim. You want to cover the basics before you get fancy, and this is the cut and style that will offer the most versatility in your wardrobe.
Just say no to super-light acid washes. They're dated and unflattering.
Check the fit. There's a fine line between "loose" and "so baggy you're swimming in them". Denim that has to be cinched with a belt to prevent a wardrobe malfunction, folds around the ankles, excess fabric pooling around the knees and hips—all are signs that your pants are too baggy and too long.
Don't be afraid of trends. Colored, distressed, waxed or embellished denim can seem intimidating at first, but you can downgrade it from its high-fashion roots to a more street-style ensemble by swapping in more casual items. Trade a blazer and scarf for a grey tee and a sweater, and you'll look more casual while still kicking it up a notch in the style department.
Don't try to "dress up" your denim with shiny black dress shoes. If you want to step it up from basic sneaks, try a pair of Toms, brogues, or well-made boots. They'll show you put extra effort into looking stylish without appearing mismatched for the occasion.
Remember: even if you're wearing denim from a brand like Boss Orange, Michael Kors or Diesel Jeans, denim is almost never acceptable as "business casual" wear (unless you have a very laid-back office). Save your nice jeans for the weekend, and stick to the dress code with a relaxed pair of chinos or other slacks.
While you're shopping for men's jeans, why not check out Psyche? Psyche is the North's number one online clothing store, winning awards not only for their fab selection but also for their customer service. They ship free across the UK and also have a free return policy, making it easy for you to shop from the comfort of your home. And with brands ranging from Levis to Armani, there's something for every taste, trend and price point. It's never been easier to shop for men's designer denim!
Related posts: