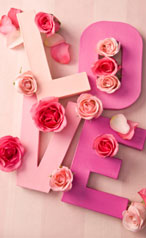 Did you know that a pair of mandarin ducks or two cranes that mate for life placed in the far right corner of the bedroom or the south-west corner of the house could add spark to your love life? This and more…
* Put a pink quartz crystal pyramid in the center of the house to attract love in your life.
* Gift your lover fresh flowers (pink, red or orange in colour) and place them any where in the house except the south-west corner or the right corner of any room, as fresh flowers clash with the element of romance, which is Earth.
* Gift yourself something you fancy the most regarding the person in question. And place it in a prominent place in your home and every time you pass by, see yourself meeting your perfect mate.
* Hang a painting of peonies flowers in the south-direction of the living room to attract your dream mate.
* In the south-west corner of the house, light two red candles to ignite the spark of romance.
* Hang heart shaped crystals in pairs near a sunny window so that the sunlight creates attractive designs to bring in the much needed yang energy for love.
* Place a six rod metal wind chime in the north-west corner of your house to bring romance in your life.
* In the south-west corner of your garden, tie rocks or stones with a red thread and put your names (you and your partner) and place them near a blooming plant.
(Text: Hindustan Times)