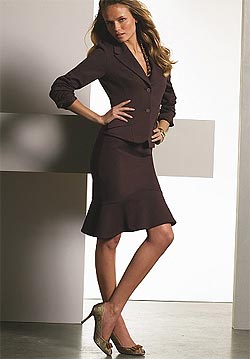 Every new season brings with it a plethora of OMG-inducing new styles. But when you're stuck in an office or a classroom, where dress codes or common comfort may dictate the bulk of your wardrobe, working in new trends can be difficult. Here are a few ideas to try this fall plus four trends to skip altogether.
1. Sheer tops. Lace separates and sheer tops may rock the runways, but at the office? Not so much. Layer them over opaque pieces to stay office-appropriate. Go for a colored or patterened piece for punch, or stick to a blush-nude cami.
2. Bold color. Too much can look out of place, so stick to a punchy accessory like a bright clutch to enjoy a feel-good hue without losing your professional vibe.
3. Feather jewelry. Feathered earrings may give off too much of an earth-child aura, so stick to a cast metal feather bracelet or ring instead.
4. Ladylike menswear. Keep the "lady" part and avoid any overly slouchy pieces. Instead try a blazer over a dress, or tuck a silk tank into slim trousers.
5. Patterns. Plaid looks best on flats, handbags, or other ladylike accessories, to avoid a lumberjack vibe. And polka dots should be worn carefully; think a muted print on a blouse, or a day dress minus any girly ruffles.
6. Volume. Maxiskirts and chunky sweaters become more wearable if you choose a skirt with a little less volume and pick a sweater with a more body-conscious cut (think: no sleeves that double as mittens). Belt it for definition and add some chunky jewelry.
And, for your consideration, four trends that you probably just shouldn't attempt at the office:
1. Leather dresses
2. Floor-length capes
3. Showgirl heels
4. Slit-up-to-there skirts
Wouldn't you like some silver jewelry to go along with the stunning dress! For the full range visit the Rockstv.com website