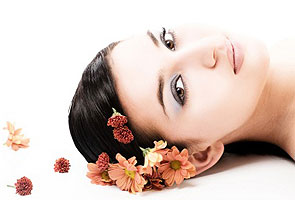 In between the beach trips, BBQs, and other assorted summer outings, you probably don't have a lot of time to spend primping in front of the mirror. And why would you want to, with that gorgeous weather calling your name? Instead, try one of these genius beauty products that let you spend less time fussing and more time having fun. (Unless noted, all products are available through online retailers like ULTA or drugstore.com.)
Genius product #1: Hard Candy Lash Ink 4-Day Lash Stain ($7, walmart.com). Go beyond waterproof mascara with a stain that withstands showering, swimming, crying, and whatever else you choose to throw at it for up to four days.
Genius product #2: Revlon Just Bitten Lip Stain ($9). No more smeary lip color this lip stain gives you waterproof, kiss-proof, food-proof color in some of summer's punchiest hues, like hot pink and coral orange. And the built-in lip balm means no more dry lips.
Genius product #3: Jergens Natural Glow Firming Tanning Lotion ($9). Moisturize, firm, and add a hint of color all at once with this triple threat lotion, which has become a bit of a staple over the years for many beauty junkies.
Genius product #4: New York Color Blushable Creme Stick ($4). When the temperature rises, forget heavy foundations and cakey powder blushes, and go for the glow with this creamy formula. In a pinch, you can highlight your lids and lips, as well; in six shades.
Genius product #5: L'Oreal Paris Double Extend Keratin Lash Boosting Mascara ($9). Growth serum or mascara? You don't have to choose just one with this double-duty formula.
Genius product #6: Physician's Formula Healthy Wear SPF 50 Tinted Moisturizer ($15). A sheer, oil-free foundation and sunscreen combined, this formula also has anitoxidants and natural ingredients to help brighten and fight signs of aging, like sun spots.