Fashion trends come and go on a seasonal basis, and shoe trends switch up fairly often as well. But while platforms might come and go and we might switch from round to pointy toes on our high heels depending on the decade, there's one style of shoe that has remained popular for decades and will probably never go out of style: Converse Chuck Taylor Shoes.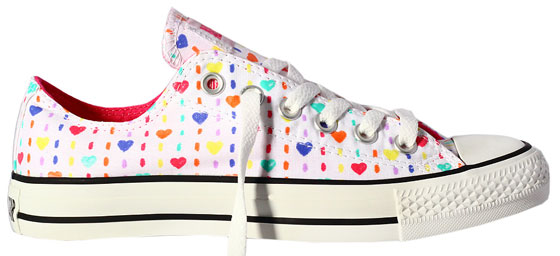 The sporty lace-up sneaker, made of canvas and rubber, has older origins than you might think! It was invented in 1917 by Converse and marketed simply as "All-Stars", with Converse hoping to cash in on the basketball market. In the 1920s, basketball player and company spokesman Chuck Taylor improved the shoes' design and their popularity took off. Converse subsequently incorporated Taylor's signature into their logo and today the shoes are popularly known simply as "Chuck Taylors" after their famous original spokes model.
Converse Chuck Taylor shoes have been hugely popular over the years with everyone from celebrities to youth in punk rock garage bands. Famous faces like Nicole Kidman and Gisele Bundchen love their Converse Chuck Taylors for more casual days. Rockers like Strokes drummer Fabrizio Moretti are known to rock Chuck Taylors 24-7. Perhaps the most famous face to wear Chuck Taylors on the red carpet is 'Twilight' actress Kristin Stewart, who has been known to pair couture minidresses with her beloved yet battered Chuck Taylors!
While classic black Converse Chuck Taylors are the obvious choice, today you can buy a pair of the cult sneakers in just about every color under the sun. They come in patterns, lace up to the knee, and have been reinvented dozens of times over to follow current trends. In fact, you can even customize the color and design on your sneakers for a fee: at Converse.com, you can walk through every step of the design process to create a custom pair of Converse sneakers to suit your own personal taste or to create a one-of-a-kind gift for a friend.
So why are Converse Chuck Taylor shoes so popular? Part of it is comfort; it's hard to beat a pair of sneakers when you're running errands or you'll be on your feet all day shopping and hanging out with friends. And part of it is simply the scruffy-cool, "I'm with the band" attitude the shoes project. Last but not least, there's the versatility to wear them with anything in your closet. Just ask gals like Kristen Stewart: a pair of Chuck Taylors goes with anything!
Related posts: