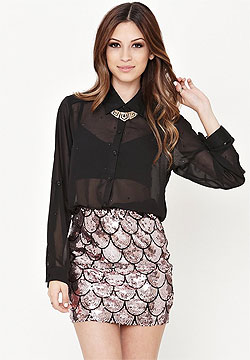 Whether it's glitter, sequins, or a metallic sheen, sparkly clothing is hot this season! Sparkly, shiny clothes and accessories are perfect for glamming up your look for a holiday party or get-together. However, in order to look on-trend, rather than looking like a disco ball, there are a few style guidelines you need to keep in mind.
For starters, it's best to go with one sparkly piece, rather than head-to-toe glitter. That means that if you're wearing a sequined top, you probably don't want to pair it with metallic jeans. That's a fashion dare best left to a celebrity performing under a spotlight! Better to pair it with muted slacks or a skirt.
If you are nervous about dipping into this trend, a sparkly accessory is a nice happy medium between drab and too flashy. Sparkly glittery heels and handbags are everywhere this season, along with scarves with metallic threads in them and super glitzy shawls and wraps.
You can get glitzy with your makeup, too. An eye shadow with a little glitter is a fun and festive way to update your makeup for a holiday party. Just remember: glittery should be super fine, not chunky; and if you're wearing shimmer on one part of your face, keep the rest satin or matte. The same goes for wearing highlighter on the cheeks; you don't want to appear overly shiny, especially once the flashbulbs start popping!
Glittery nail polish is another great way to add sparkle and shine, and looks great next to a sparkly clutch. But resist the urge to pair it with equally sparkly clothing it's too much competition!
On that note: if you're wearing super-glittery clothing, avoid too much glittery makeup and jewelry, and vice versa. A little sparkle is fine you don't want to be too bare but an overload will overwhelm your fellow partygoers. Try a little highlighter on cheekbones or palladium wedding rings with a sparkly top for the best balance.
Related posts: