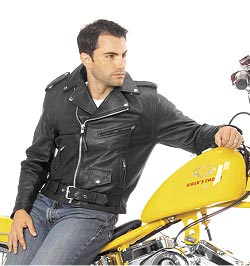 The clothing that is worn by motorcyclists does a lot more than simply keep them warm and looking cool. Every item of clothing worn by a motorcyclist plays an important part in keeping them safe in case of accident, helping lessen the effect of potential injuries. Choosing a jacket is an important part of making sure that your wardrobe is properly equipped with sensible clothing for riding.
Many motorcycle jackets are made from leather, a useful and rugged material which works well to both keep the rider warm and help prevent injury. Any newcomers to riding a motorcycle would do well to remember what it felt like when they fell from their bicycle as a child. The kind of grazes and bruises that you received are nothing compared to what might happen in a high speed motorcycle accident. Any scrapes along the road surface are likely to leave a lot more than just simple grazes.
Leather is King
Motorcycle leather jackets are there to protect you from three kinds of injury. These are abrasion, impact and puncture. All three of these kinds of injury are very common in motorcycle accidents. A jacket will offer some protection from all three and maybe save your life in the process. Being dragged down a tarmac road while wearing a T-shirt, for example, will make a massive mess of your torso and back.
This is why many motorcycle leather jackets have reinforced sections of additional 'armour' on them. When buying a jacket, make sure that this armour is over the right areas of your body and is protecting what it should be. Shoulder armour, for example, should be protecting your shoulders and not covering your biceps.
Comfort and Fit
Although it may sound obvious, finding a jacket which fits properly is also crucial. There should be enough room under the jacket for you to be able to fit a jumper. This will keep you warm on cold days as well as providing some extra protection from impact.
Before buying a jacket, you should also check the stitching and reinforcements. Make sure that they cover the right areas and that they appear rugged and tough. Leather should also be at least one millimetre thick and, ideally, thicker than that. Thin leather will wear out more quickly as well as offer you less protection.
It is also wise to choose a jacket which has some kind of reflective material included in its design. Bright colours are also a good idea. This helps to make you more visible when out riding and can be very important at night. Riding a motorcycle might be a cool thing to do, but being safe is much more important than looking great. Looking great counts for little if an inattentive motorist does not notice you in the dark.
Look for comfort and safety over style any time and ride your bike safe in the knowledge that you are better protected with a decent jacket than without.
Author's Bio
Mary has been riding motorbikes almost since before he could walk. Raised in the South Warwickshire countryside, he has fond memories of the annual Bulldog Bash at Long Marston. An expert on all matters relating to motorcycles, she now shares her expertise with a range of motoring blogs and biking websites.