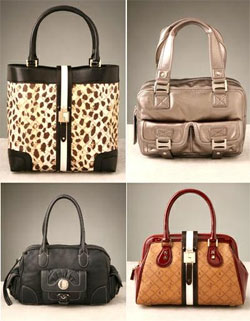 How do you want to carry your stuff around this season? An outfit is only as good as the accessories you add to it, and one of the most important accessories of all are good designer handbags. This spring, whether you're looking for roominess or convenience, glamour or casual cool, there's a spring bag trend to suit your style and finish that outfit with ease.
East meets west totes: Winged out and sleek in shape, these structured totes are the new way to inject a dose of coolness into your professional work wardrobe. Available in an array of options from classic leather to color blocked fabric, bright faux leather and even raffia, these totes are roomy enough for all of your work items without being impossibly bulky next to a tailored suit. With the infusion of east meets west style in spring clothing, this tote is a smart pick to play off the clean lines and shapes of this trend without going too matchy-matchy.
Straw totes: Is there a bag more essential to the spring/summer season? We think not. Roomy top-handle totes come in everything from plain straw to vibrant colorful options to straw totes with accents of fabric, leather, and even metallic. The latter options, with their mixed media makeup, are great for bringing the trend off the beach and into the city during the week, since you won't look too casual. This is also a good way to weave the global trend into your wardrobe if you're nervous about looking costume-y.
Roomy satchels: Look for double straps and extra space; this bag doubles as an overnighter but remains elegant enough to tote to the office. It's got enough room for everything you could possibly need, from a laptop to a spare outfit to snacks and your makeup bag if it's going to be a long day. If you're going to be stuck in the office, try a vibrant nautical striped pattern or bright soft leather for summer; it's a subtle way to have fun with trends without breaking from an office dress code.
Frame clutches: This retro favorite gets a cool update in any material and color you could covet and looks glam with everything from a gown to leather skinny jeans. Try a raffia version for beachside glamour or a metallic option for city evenings. If you're interested in the mod trends of this spring, a frame clutch is a good way to dip a toe in without committing to a mini-dress and sixties hair and makeup.
Saddlebags: The cross-body bag goes even more boho cool with a saddlebag style that makes your weekends even easier. Hands-free and perfectly sized to fit all your essentials without weighing you down, it's great for summer concert festivals, long shopping trips and anything else a relaxed weekend might throw at you. If you're excited about the boho glam trend of spring 2013, you need a saddlebag; it can work with everything from printed maxi dresses to ripped denim shorts and a blouse, and if you choose the right material, it will last through upcoming seasons as well.