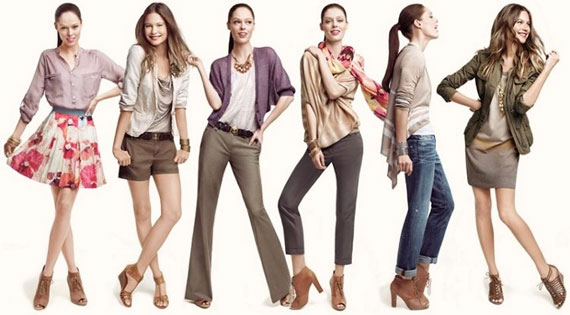 This spring, you'll want to go to great lengths-and short ones, too-in the name of fashion! Rather than focus solely on one side or the other of the fashion spectrum, spring 2014's fashion trends encompass everything from the micro-mini to the maxi skirt, from crop tops to breezy layered tunics. You'll also see lots of painterly prints, shades of pink, and a new silhouette in the pants department. Here's a snapshot of some of spring's biggest trends and how to wear them now.
Go short with crop tops. In previous season we've seen these tops worn with high-waisted pants or pencil skirts to show off just a sliver of skin. This year, though the trend is carrying over, crop tops are being paired with low-slung trousers and maxi skirts in a throwback to the nineties. Not comfortable showing your abs? Layer a crop top with a longer top in a sheer material.
Go long with tunics. If you've paged through any spring 2014 issues of your favorite fashion magazines, you've probably seen tunics layered over long skirts. Midis and maxis are being worn with longer tunics and sweaters, often with a belt to define the waist or hips. It's a relaxed silhouette that offers comfort and a little more modesty.
Show a lot of leg. The micromini is back in a big way, but if you're planning on showing a lot of leg, stick to lower heels (like a kitten heel) and pair with a loose lightweight sweater to cover up a little more on top.
Or, show just a little with tea skirts and maxis. The "midi" or tea-length frock is big for spring 2014, and can go either casual or formal. Try pairing a flared silhouette with a corset top and high heels for a retro date night look.
Get your 15 minutes of fame with a painterly print. High-end designers like Prada embraced painterly prints and pop art graphics for spring 2014. Not your cup of tea? Try an abstract watercolor print.
Go all out in pink. Retailers are predicting that every shade of pink known to woman will be hot this spring, so whether you're wild for bubblegum pink or prefer pastels, there's a shade out there that will be flattering and on-trend.
Try a new pair of pants. This year, the silhouette for pants and culottes is very loose and flowy, with a higher waistband and a long, wide-legged silhouette. It's a welcome change from unforgiving jeggings and makes the perfect accompaniment to crop tops.
Related posts: