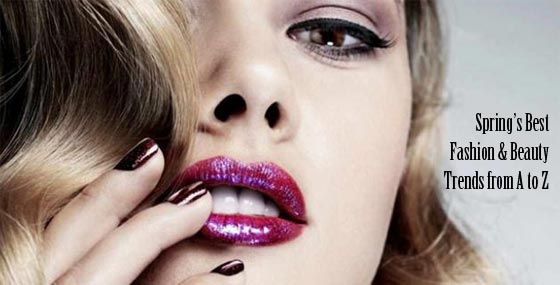 A. Ankle straps. The ankle strap sandal is this season's must have sexy shoe.
B. Boho edge. Take a page from Rachel Zoe or Nicole Richie and grab some headbands and flowy maxi dresses for your wardrobe!
C. Crossbody bags. They're essential for toting your goods on all your summer outings, whether you're going to a music festival (lucky you!) or just running errands.
D. Designer sweatshirts. Popularized in fashion magazines and on street-style blogs, they're the new way to look like you made an effort while still feeling like you're wearing pajamas.
E. Emerald Green. Pantone's Color of the Year for 2013!
F. Florals—but not as you know them. Big, brash, almost grunge-y florals are the rage this year.
G. Grunge. Yep, those ripped skinnies, flannels, bedhead and smudgy makeup are going uptown.
H. Hothouse makeup. 70s-inspired bright shades of eye and lip makeup from brands like NARS will electrify your summer!
I. "I'm a model" eyes. Metallics! Colored liner! Jewels! Try one or all of these edgy trends.
J. Jeans. In bright hues like lime and pink, in bellbottom cuts and cropped styles, in floral prints and in basic stone washes—denim is everywhere. This spring, look for it on vests, tops and dresses as well as, you know, pants.
K. Kitten heels. We're not suggesting you ditch your platform sandals just yet, but these ladylike shoes are admittedly easier to walk in!
L. Leather (or faux leather). Beyond jackets, bags and boots, buttery versions are now used for dresses and even blouses.
M. Major lashes. Glue together multiple sets of falsies, or try some with tints or even faux feathers. Obviously, this look is not work-appropriate!
N. NSFW sheers. Obviously, these need to be worn outside of the office (or with a full slip). Sheer fabrics and cutouts return for another tantalizing season.
O. Off the wall prints. Feathers, foxes, sailboats, birds and more: spring printing is moving past the safe florals and into whimsical patterns in bright and cheerful colors.
P. Pointy toes. On heels and flats alike.
Q. Quickie nail art. The new nail strips come in a variety of patterns and even textures, making nail art accessible to even the novice. Many take only minutes to apply.
R. Railroad stripes. So much cuter than you might think!
S. Stripes. Need we say more?
T. Twiggy style. The iconic model of the 60s can be seen as a major influence in both the fashion and beauty trends of spring.
U. Unboring nudes. Whether you go for a champagne, a blush or a brown tone, nudes are spring's sweet and sophisticated alternative to brights and patterns.
V. Varsity jackets. So cute, and now widely available through popular high street shops.
W. Warrior. Knee-high lace-up gladiator sandals and armor rings are just a couple of ways to work this fierce trend!
X. Xtreme neons. The most shocking of pigments are on clothes, accessories, and makeup!
Y. Yummy treat-inspired beauty goodies. Nail polish that dries to a textured sugar-like finish? Candy-colored polishes? Get your sweets fix with these delectable beauty offerings.
Z. Zzzzzz. With all of the studies showing sleep plays an important role in keeping you beautiful, it's good to see 2013 bringing a new crop of multi-tasking products that let you spend less time on your styling routine, which means you can sleep in longer. Look for improved wet-dry styling irons, BB crèmes for the hair, CC crèmes for the face, at-home gel manicure kits, and more!
Related posts: