Getting dressed should be easy, even more so when the weather starts warming up and your social schedule is jam packed full. Who has time to stand in front of the closet and ponder outfit ideas when you have all those backyard parties, spring brunches and other events to attend?
If you want to make getting dressed and staying on trend super easy this spring, just try one of these spring trends. They're all easy and you've probably already got a few pieces in your closet to get your started!
1. Black and white everything. A major spring runway trend, black and white is the newest way to look instantly chic and polished without investing a lot of time and effort into your outfit. Major bonus: it's impossible to look mismatched! Black and white graphic prints, white tuxedo jackets, black and white pumps, nautical stripes this year it seems everything is available in this color combo. And while it might not seem like the typical spring palette, it's a strong style statement that's also a refreshing change from the typical Easter pastels.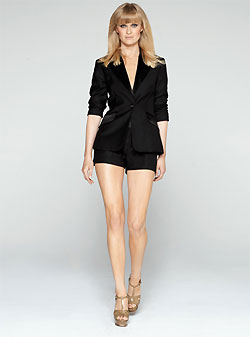 2. Shorts, redefined. For more dressy occasions, we present the shorts suit. It's sassy, stylish, and yet chic all at the same time. For more casual occasions, the Bermuda short is returning to popularity, this time with a looser cut. It's a nice change from the thigh-skimming cut-offs that flatter only the thinnest of Instagram addicts (and as a nice bonus, you can wear these ones to meet the family!). Pair with a more fitted top and wedge sandals to avoid straying too far into menswear territory. Or try a pair with the next trend.
3. Low heels and dressy flats. After years of platform pumps, low heels are having a moment. Platform sandals will still have fun this year, but low heels think one to three inches are spiking in popularity, along with pointy toes. Pointy-toed flats are also having a moment. Pair with menswear-inspired Bermudas or boyfriend jeans rolled at the ankle for a casual cool vibe.
4. Mod stripes. They're on everything from shoes to dresses to glasses. Sixties inspired and totally punchy, they come in every shade from black and white to punchy hues like orange. Wear a little with an accessory or go head to toe in mixed stripes on slacks and a cardigan.
5. Grungy florals. This year spring's florals are less sweet and more downtown chic. You'll find fewer pastels and more florals in tones of grey and navy, paired with stripes and plaids. Embrace the print mixing once you try it, you'll be hooked!
6. Ruffles. As an absolute contrast to the flat shoes, slouchy shorts, and casual floral prints, we present a knockout trend: big, bold ruffles. For those events when you need maximum wow with minimal effort, a ruffled blouse, dress or even bag is just the ticket.
7. Sport chic. Grab your windbreaker, because sport chic is back for another year. Skinnified versions of track pants, leather backpacks, neon windbreakers and cute patterned ball caps and sneakers are all turning your former sporty essentials into chic fashion must-haves. Try this trend on the days you really need to feel comfortable but want to look like you made a bit of an effort. One warning: don't confuse this trend with "running out the door in your Lululemon yoga pants". Cute, yes, but save them for actual yoga class. This trend is about pieces that take that sporty gym vibe and give it a serious upgrade through closer cuts and luxe fabrics.