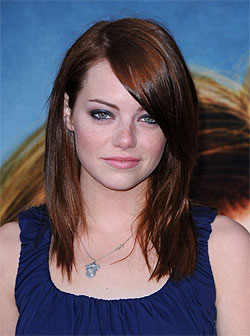 If you don't know the name Emma Stone, you soon will. The actress already has a long list of supporting roles in major comedies under her belt think Superbad and Zombieland and starred in last summer's hit movie Easy A. But this year, Stone is heating up to be the big Hollywood It Girl of summer 2011.
She's got two big movies coming out over the next couple of months Crazy Stupid Love and The Help and she graces the covers of three popular women's magazines this summer (Glamour, Vanity Fair, and Elle). That's quite a busy summer for a girl who's only 22 years old!
In the romantic comedy Crazy Stupid Love, Stone stars alongside an impressive list of Hollywood bigshots, including Steve Carell, Julianne Moore, Marisa Tomei, Kevin Bacon, and Ryan Gosling. Carell stars as a man trying to navigate life and love after his wife (Moore) asks for a divorce.
Next month, Stone headlines The Help, her first starring role in a year. Based on the novel by Kathryn Stockett, the movie explores what happens after a young (and white) Southern woman in the 1960s decides to write a book about some of the longtime (black) housekeepers of the local influential families. Friendships are torn apart and rebuilt in the ensuing drama.
Not only is Stone heating up the silver screen this summer, she's been winning raves for her style, as well. Back to her signature red hair (she briefly went blonde for her role in 2012's The Amazing Spiderman), she arrived at the New York Premiere for Crazy Stupid Love in a black lace Tom Ford dress that's spot-on for 2011. Last week she made a bold move by arriving at the premiere of Friends With Benefits in a red top/neon pink skirt ensemble and made it look stylish, not mismatched.
Where can you see Stone next? Look for her in theaters next summer as a young Gwen Stacy, opposite Andrew Garfield as The Amazing Spiderman!