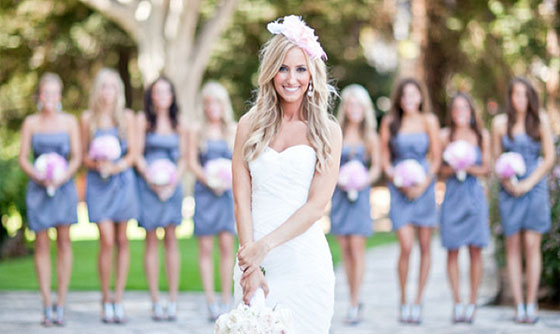 Just a dress doesn't define a bridesmaid. There are a lot of finer details at work and all of them when put together can turn out to be an amazing look or can ruin it. When you dress up your bridesmaids you want them to complement you and your wedding dress. You want to stand out and rightly so but the question is how to accomplish that?
Color:
The color of the brides maids dress plays a vital role on how your dress looks next to them. Choosing the right color can be quite difficult. Focus on the theme of your wedding and then select a color that you think will look good next to your dress and make it stand out more. But, do make sure that in the process you do keep in mind how your bridesmaids will actually look in those dresses.
Style:
Choose the style of the dresses to complement your own. You could go with the same style of dress like a ball gown or belts etc. or you could complement your dress by having all the bridesmaids wear shorter dresses than yours. Having the dresses hemmed so that they all appear on the same length in pictures is another idea you could work with.
Hairdo:
Have all your bridesmaids have a similar hairdo done but keep it different from yours so that you stand out more. For example, if your hair is tied up in a bun you can have your bridesmaids leave their hair open straight or vice versa. Just make sure that the hairdo you select will look good on all your bridesmaids.
Shoes:
I think having similar shoes would be a bad idea. Give the girls some liberty. Let them wear the shoes they like, just make sure that the color of the shoes compliments their dress and looks good. They could be the same color if they be so willing.
Size:
Keep in mind that your bridesmaids are not all the same size. Make sure that your choices don't ignore the needs or shortcomings of your bridesmaids. Make them look good and you will automatically look good.
Flowers:
Most people don't focus on this point but having the right flowers can also be a great factor in complimenting your dress. Get flowers that look good next to your dress and have them all match your bouquet.
It's your wedding and you want to look special so go ahead and do that but always remember that your bridesmaids want to look good too. So, satisfy their needs while making your fantasies come true.
Related posts: